Clash of Titans: 5 old players, 1 new entry; Election in Punjab will be keenly watched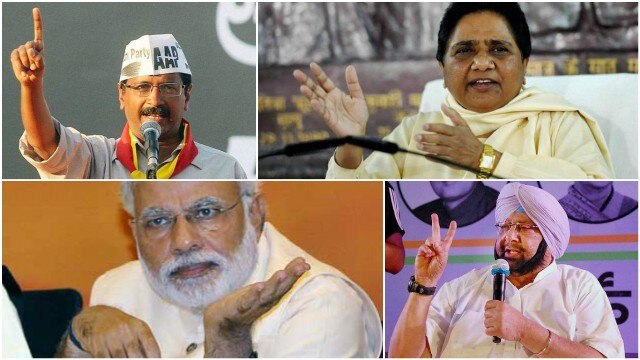 New Delhi: The former Bharatiya Janata Party leader Navjot Singh Sidhu's wife, Awaaz-E-Punjab leader Pargat Singh is all set to formally join the Congress party on 28th November, informed Amarinder Singh.

The state is gearing up for Legislative Assembly elections which are expected to be held in Punjab next year. The current ruling coalition is Shiromani Akali Dal-BJP alliance led by CM Parkash Singh Badal.

Changes in electoral process:

The Election Commission (EC), in April 2016, revealed about 8 lakh false votes of the state being canceled in the past one year.

However, over seven lakh youngsters who have attained the age of 18 this year were yet to get registered.

Also, in every district, one constituency will be chosen for the trial run of the Voter-verified paper audit trail (VVPAT), machines used along with EVMs.

In case the number of voters will be more than 1200 in rural areas and 1400 in urban areas, the EC may also decide to set up new polling stations.

Political developments till now:

Aam Aadmi Party (AAP)

The Aam Aadmi Party, in December 2015, declared that it would contest the Legislative Assembly elections in 2017. The AAP may turn this election into a three-cornered contest.

Indian National Congress (INC)

Under the leadership of Amarinder Singh, the Congress will take part in the elections. The party has hired poll strategist Prashant Kishor for campaigning.

Bahujan Samaj Party (BSP)

Being the fourth largest party in Punjab, the BSP after improving its vote share in 2012 elections has started preparations for 2017. In fact, it started the preparations as early as on 1 November 2014 by launching Punjab Bachao Abhiyaan from.

BSP supremo, Mayawati, on 15 March 2016, on the birth anniversary of BSP founder Kanshi Ram in Punjab attacked SAD-BJP government as 'anti-Dalit'. She termed Arvind Kejriwal as a "baniya" who had "always worked against Dalit and Scheduled Caste people" before he became Delhi CM.

Mayawati also declared that BSP will contest state elections on its own in all 117 seats. On 9 June 2016, BSP also supported the film on Punjab drug abuse Udta Punjab, saying there is 'nothing wrong' in it.

Shiromani Akali Dal-BJP allinace:

The Shiromani Akali Dal has announced the first list of 69 candidates of the party for the Punjab Vidhan Sabha elections.

The BJP, reportedly, on its part has planned a rally to be addressed by Prime Minister Narendra Modi in December. there are also plans that party chief Amit Shah will address booth-level workers in the state.

Aawaaz-e-Punjab

And now there is a new player Navjot Singh Siddhu and its party Awaaz-E-Punjab.

Election issues in the state:

Unemployment and lack of skills, farmers' crises, continually failing economy, nepotism and the supply of drugs and addiction are the major issues.

Caste and religion data (as per the 2011 census)

In Punjab, 57.69% of the state's population follows Sikhism. Hindus form 38.5% of the population, Muslims, 1.93%; Christians, 1.3%; Buddhists, 0.12%; and Jains are only 0.16%.

Interestingly, the Dalits (Scheduled Castes) constitute 31.94% of the population. It is the highest percentage amongst all the states.

In the upcoming Punjab state election, there are five old political parties and one new entry (Aawaaz-e-Punjab); the polls in this Sikh community dominated state will be very keenly watched.