CM Kejriwal sparks a row, cleans already clean utensils in Golden Temple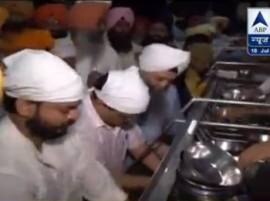 Amritsar:  Delhi Chief Minister and Aam Aadmi Party national convener Arvind Kejriwal cleaned utensils at a community kitchen along with other party leaders, in order to compensate for his party's political gaffe after the party's youth manifesto carried a picture of the shrine along with a broom which is AAP's election symbol.

The move by Kejriwal to come here was to seek forgiveness; But the Chief Minister sparked a row after he was seen cleaning already clean utensils,   inside the Golden Temple complex here early on Monday.

Accompanied by senior party leaders, including Ashish Khetan, H.S. Phoolka and Bhagwant Mann, Kejriwal arrived at the Golden Temple complex, where the holiest of Sikh shrines Harmandar Sahib, popularly known as The Golden Temple, is situated, before dawn on Monday.

With his head covered with handkerchief and folded hands, Kejriwal went around the shrine complex, offered prayers and later cleaned utensils at the "Langar hall", the community kitchen which serves food to over one lakh people in a single day.