Congress, AAP demand Rijiju's resignation over alleged Rs 450 cr power project scam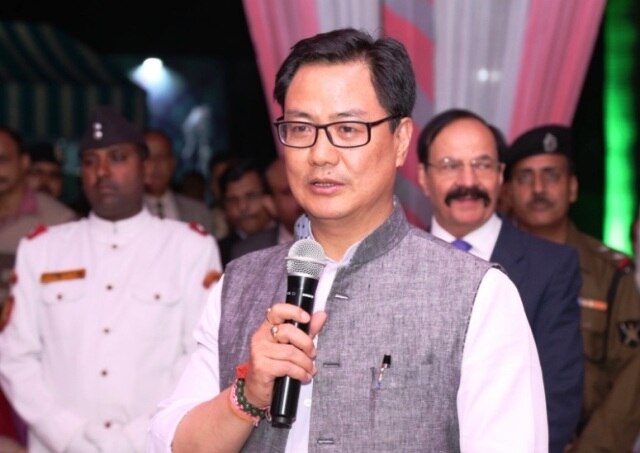 New Delhi: Arvind Kejriwal-led Aam Aadmi Party on Tuesday demanded the resignation of Union Minister of State for Home Affairs Kiren Rijiju for his alleged involvement in an Arunachal Pradesh hydro project scam.
Quoting newspaper reports, AAP leader Ashish Khetan accused Rijiju of using his influence as a Minister to help his cousin in the "Rs 450 crore scam".
"This is a serious matter. Rijiju has no right to remain a Minister after being exposed in this scam. He should immediately resign from his post," Khetan said.
The AAP leader also urged Prime Minister Narendra Modi to order an independent probe into the alleged scam.
"We also request the Prime Minister to ensure that Rijiju and his family do not influence the probe," he said.
The newspaper claimed that Rijiju had written letters to clear payments of the contractors in the construction of two dams for the 600MW Kameng Hydro Electric Project in Arunachal Pradesh.
Earlier in the day, Rijiju slammed the daily for "planting" a story about his alleged involvement in a power project and said if they visit Arunachal Pradesh, they will be "thrashed with shoes".



Why is Congress still not apologising to the Nation? All Contract works & payments were made during Congress regime. Locals came to me as MP https://t.co/2gOFKQqzrW


— Kiren Rijiju (@KirenRijiju) December 13, 2016

Really cheap! This is the copy of representation I received & forwarding letter to Power Minister. Is it a corruption helping poor Tribals? pic.twitter.com/lwQXthQsNI

— Kiren Rijiju (@KirenRijiju) December 13, 2016

Now Congress must apologise to the Nation. All Contract works & payments were made during Congress regime. I just forwarded a memorandum. https://t.co/2gOFKQIaju

— Kiren Rijiju (@KirenRijiju) December 13, 2016
Cong also demands sacking of Rijiju (PTI)
Congress also demanded the sacking of Union Minister Kiren Rijiju alleging his "involvement" in the 'Rs 450-crore Arunachal power scam' and said the Prime Minister's "tall claims" of bringing transparency have "fallen flat". Stating that Rijiju's role in the matter is under cloud, Congress chief spokesperson Randeep Surjewala also released an audio tape of a purported conversation of his cousin, a contractor in the 600 MW power project, and Rijiju's letter recommending that held up payments be released.
"The role of Kiren Rijiju in this issue is under cloud. Kiren Rijiju has no right to stay in office. He should either be dismissed by the Prime Minister or asked to resign till an independent probe is complete," he told reporters. Surjewala trained his guns on Prime Minister Narendra Modi saying his "tall claims" of bringing transparency have "fallen flat" as had happened with several other scandals in the past including Vyapam, Lalitgate and the Vijay Mallya issue.
"Mr Modi's claims of transparency ad honesty is now under question. People of India are looking at what action he takes on this issue," he said. Payments were stopped after a letter by the Chief Vigilance Officer of North East Power Corporation (NEPCO), who conducted a probe into the issue, the Congress spokesperson said and alleged that there is a scam to the extent of Rs 450 crore in the form of false and inflated transportation bills by Goboi Rijiju, who is said to be a relative of Kiren Rijiju.
"This is a very serious issue. The Prime Minister should speak out on this issue…. "If PM has courage of conviction, he must either sack Kiren Rijiju or ask him to resign and conduct a fair and free probe so that truth comes out…Till then, Rijiju should be divested of his post." "The Prime in the run up to elections used to say that he will neither do or allow corruption to happen. But there have been a series of charges of corruption that came to light in the Modi government, be it scams in Rajasthan mining, Vyapam scam in Madhya Pradesh or Lalit Modi or Vijay Mallya," he said.
Targeting the CBI, Surjewala alleged that the premier investigation agency has become a "puppet" in the hands of the Modi government and has not even registered an FIR in the matter despite a 128-page report by the vigilance officer. Surjewala also played out a purported audio conversation between Goboi and the NEPCO Chief Vigilance Officer Satish Verma and the opposition party claimed it also had a mention of the goings on that led to pulling down of the Congress government in Arunachal Pradesh. He claimed Rijiju's brother was clearly attempting to influence the CVO in the 28-minute tape and was using his Minister brother's name to seek his help in getting the bills cleared and was also enticing him with a promotion.
"There seems to be a connection with making of these payments and were some of these payments used to buy and sell legislators is a matter that needs to be seriously probed," he said. Alleging that "inflated" bills were put up for bringing boulders for the dam construction, he said some of the huge boulders were shown to be carried on scooters, motorcyles and cars by a single driver at the same time. Rijiju today denied allegations of wrongdoing.