Damage control: Phoolka to visit Golden Temple to seek pardon for Khetan's 'inadvertent' mistake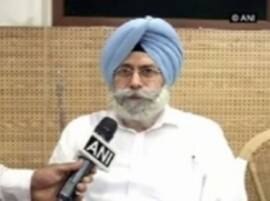 By:

ANI
Updated:
10 Jul 2016 05:18 AM
Amritsar: Aam Aadmi Party (AAP) leader Harvinder Singh Phoolka will visit the Golden Temple on Sunday to seek pardon for the mistake committed by Ashish Khetan, who "inadvertently" hurt the religious sentiments of the Sikh community by comparing 'youth manifesto' with the Guru Granth Sahib.

Phoolka will be accompanied by party volunteers during his visit to the Darbar Sahib.

Police have registered a case against Khetan, who has been accused of hurting religious sentiments by using the image of the Golden Temple on the cover page of the manifesto with the party's election symbol of broom superimposed on it, which provoked various Sikh groups.

The complainant alleged that by using the image of the Golden Temple on the cover page of the manifesto with the party's election symbol of broom superimposed on it, sentiments of people had been hurt.

After being cornered by political opponents in Punjab, where political temperature is soaring in view of the upcoming assembly elections next year, AAP convener and Delhi Chief Minister Arvind Kejriwal was also quick to make an announcement that he would visit the Golden Temple (Harmandar Sahib) on July 18 to carry out 'sewa' (service) in an apparent effort to control the damage inflicted by Khetan.

Khetan, however, came out with a strong apology to douse the raging issue and salvage the party's reputation ahead of the polls.

Khetan went to the extent of saying that the Shiromani Akali Dal (SAD)-led Government in Punjab can mete out any punishment to him, including 'crucifixion', if not satisfied with his apology.

"I had apologised to the people even yesterday with folded hands. People were hurt by something I said. Wahe Guru ji forgives everyone, I never intended to hurt anyone's religious feelings. If Akali Government is not satisfied with my apology, they give me any punishment. (Weh mujhe jis sooli par latkana chahtein hain, latka saktein hain)," he said.

Notwithstanding Khetan's apology, the Shiromani Gurdwara Parbandhak Committee (SGPC) said it would lodge a separate complaint against AAP leaders for hurting Sikh religious sentiments.

SGPC chief Avtar Singh Makkar said, "The remark was very derogatory and people are hurt by it. We will be registering a case against the AAP leaders who are responsible for hurting Sikh sentiments."

As per reports, Makkar said by using a picture of a broom (AAP's poll symbol) along with the Golden Temple on its manifesto the party has hurt sentiments of the Sikhs.

This is the second instance of police action against the AAP functionaries in recent times in Punjab. Earlier, AAP legislator Naresh Yadav was questioned on June 24 in connection with Quran sacrilege in Malerkotla in Sangrur district.

The AAP is seen as a strong contender in the 2017 Punjab elections and the party is hoping to expand its base beyond Delhi, where it got a decisive mandate.