Darjeeling unrest: NCP accuses BJP of having alliance with Gorkhas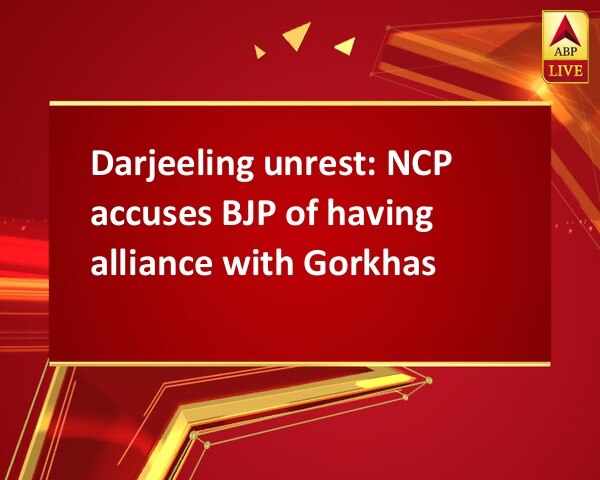 By:

ANI
Updated:
19 Jun 2017 06:10 AM
Mumbai (Maharashtra) [India], June 19 (ANI): The Nationalist Congress Party (NCP) on Monday alleged that the Bharatiya Janata Party (BJP) has an alliance with the Gorkha people who are protesting in Darjeeling over the demand for a separate Gorkhaland.
"West Bengal Chief Minister Mamata Banerjee tried her best to resolve this issue. Does BJP want Mamata Banerjee to suffer? If that is so then it's unfortunate," NCP leader Majeed Memon told ANI.
Another NCP leader Nawab Malik said that the people in the hill are having an alliance with the BJP.
"Since the violence is not coming to an end in Darjeeling, the Gorkhas are having an alliance with the BJP. It is the responsibility of the Centre to intervene to maintain peace in Darjeeling," Malik said.
Meanwhile, Union Home Minister Rajnath Singh has spoken to Mamata over the law and order situation in Darjeeling where the Gorkha Janamukti Morcha (GJM) has been leading a violent protest.
Rajnath took to Twitter and informed that Mamata had apprised her of the situation prevailing in Darjeeling.
"Spoke to West Bengal Chief Minister Sushri Mamata Banerjee this morning. She has apprised me of the situation prevailing in Darjeeling," he tweeted.
He further appealed to the people to help maintain peace in the conflict-hit region.
"I appeal to the people living in Darjeeling and nearby areas to remain calm and peaceful. Nobody should resort to violence," he added.
Meanwhile, GJM chief Bimal Gurung has said that Mamata was trying to divert their agitation into a different direction by claiming that the movement in Darjeeling hills was supported by insurgent groups of the north-east and some foreign countries.
He asserted the struggle for a separate Gorkhaland state would be intensified and if the police tries to stop them, it would only create more trouble.
As many as 36 policemen were injured on Saturday in clashes with the GJM supporters.
The GJM announced an indefinite strike from Monday encompassing Darjeeling and Kalimpong districts and the Dooars protesting against Mamata's decision to make Bengali language compulsory in state-run schools.
The strike was called even after the Chief Minister assured that the new rule would not be imposed in the hill districts.
The protestors are also asking for a separate Gorkhaland, a long pending demand of the people of the hills. (ANI)
This story has not been edited. It has been published as provided by ANI