David Cameron expresses Britain's desire to help India achieve PM Modi's vision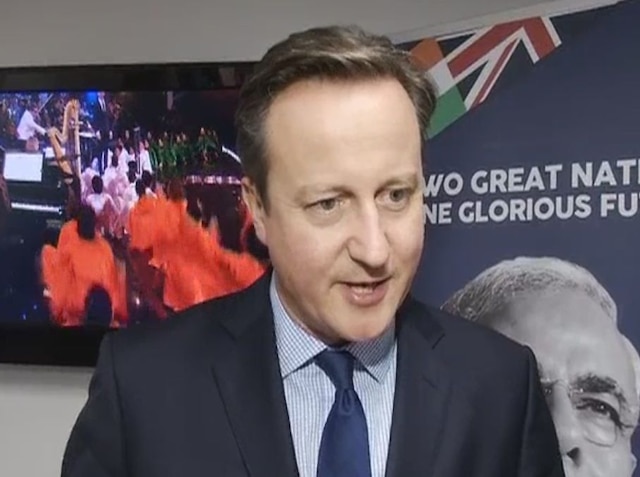 New Delhi/London: UK Prime Minister David Cameron, in an interview,  talked about how India and Britain have a lot of achieve through the partnership between the two countries. Mr Cameron said that Britain had the drive that would be necessary to help India in various sectors including the Swachch Bharat Campaign, Digital India, and skill development. The British Prime Minister was vocal about UK's desire to build a strong partnership with India.

Read the full interview below:



Correspondent: Mr Cameron, how was dinner with Mr Modi last night?

David Cameron: Well we had a very nice, very small dinner at Checkers, and we had a very good conversation about the partnership between Britain and India, about taking it to a new level. We were able to discuss in depth the problems of security and terrorism and how we want to have a really strong partnership. It's been a pretty good trip I think.

Correspondent: What has been achieved so far in terms of investment during Mr Modi's visit?

David Cameron: Well there's obviously the figure of the 9 billion pounds worth of deals and the jobs and the growth of that brings for Britain and India, but I think it really goes way beyond that because what we're having here is a much deeper partnership – a partnership that covers things like nuclear, that covers defence, that covers security; but most of all what I take out of this visit is the very serious plan Prime Minister Modi has to transform India in terms of Clean India, in terms of skills, in terms of digital, in terms of infrastructure, and I think there Britain can really help to deliver this vision. So, great opportunities for both countries...

Correspondent: And of course, there have been social and cultural significances too…?

David Cameron: Well that's right, I mean there are great people-to-people links and there's also been a lot of cultural aspects to the visit and ideas that we have for the future, culminating in this great event here at Wembley where, you know, I don't often get the chance to talk to 60,000 people…it's going to be a real privilege.

Correspondent: And lastly, Mr Cameron, how do you see yourself and Britain getting involved in Mr Modi's vision?

David Cameron: I think we can bring a lot of help and expertise...if India needs to raise money for infrastructure, London's the best place to raise that money…India wants to see the development of green technology, we have a lot of expertise in that area...whether it is training skills for young people in India, whether it is building the roads and railways and green energy projects, whether it's these new smart cities -- all of these things are areas where Britain has the expertise and the real drive to help carry forward this vision.