Manohar Parrikar visits Chennai for monitoring operations on missing IAF AN-32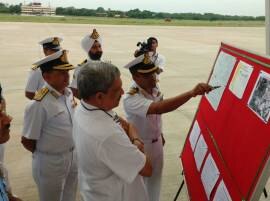 By:

PTI
Updated:
23 Jul 2016 03:05 AM
New Delhi: Defence Minister Manohar Parrikar will be visiting Tambaram air base near Chennai on Saturday to monitor operations on IAF AN 32 of the Indian Air Force after it went missing with 29 personnel on board.

Parrikar, who was briefed by IAF chief Air Chief Marshal Arup Raha, will get a detailed briefing on the search and rescue operations being undertaken by the Navy, Air Force and the Coast Guard, official sources said.

The aircraft went missing over the Bay of Bengal on its way from near Chennai to Port Blair, raising concern over its fate.

The massive search operation has been launched for tracking the upgraded plane which made the last radio contact at 0846 hours, 16 minutes after take-off from Tambaram air base.