Delhi: AAP leaders hold march against sealing drive in markets by MCD
AAP made a statement that the party is of the clear view that traders of Delhi cannot be denied their right to livelihood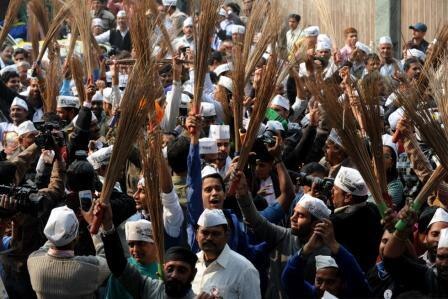 By:

PTI
Updated:
27 Jan 2018 10:54 PM
New Delhi:  
AAP councillors, leaders of the opposition in three MCD Houses and nominated councillors today marched from the party office to the Civic Center protesting the ongoing sealing drive in different markets here.
The march was led by AAP MLAs Jarnail Singh and Anil Bajpai. They announced that the party leaders would march to Parliament on Monday, demanding urgent and concrete action by the Centre to immediately put an end to the "completely unjustified" sealing of markets.
READ: Pre-Budget Session all-party meetings on Sunday
"The AAP is of the clear view that traders of Delhi cannot be denied their right to livelihood due to the utter incompetence and prevalent corruption in the MCDs which is the main reason behind the ongoing sealing," the AAP said in a statement.
The MCDs should immediately withdraw conversion charges which is the sole reason behind the ongoing sealing, it said. The party alleged that the BJP, which has been ruling the MCDs since more than 10 years, has diverted nearly Rs 2,700 crore, collected as conversion charges since 2006.