Delhi: National Herald unveils new website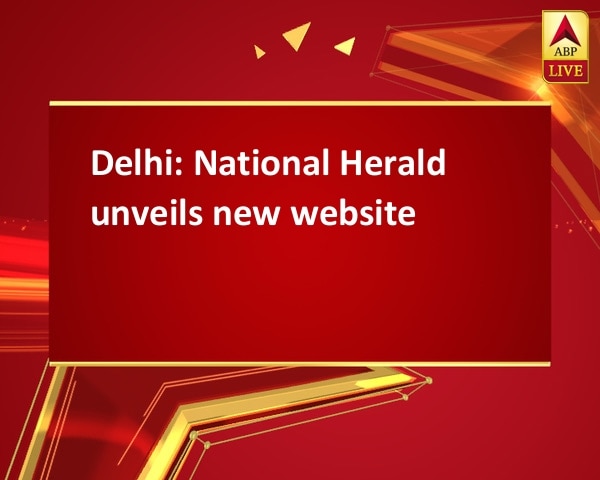 By:

ANI
Updated:
01 Jul 2017 09:35 PM
New Delhi [India], July 1 (ANI): The new website of the National Herald publication was officially unveiled in New Delhi today.
The newspaper's commemorative edition was released by President Pranab Mukherjee in the presence of Congress president Sonia Gandhi.
Vice President Hamid Ansari, former prime minister Manmohan Singh, Associate Journal Limited (AJL), the company controlling National Herald, chairman Motilal Vora, and National Herald Editor-in-Chief Neelabh Mishra were also present in the event.
Congress vice president Rahul Gandhi tweeted about the event with the hashtag #NationalHeraldIsBack'.
The National Herald was launched in September 9, 1938 from Lucknow with by India's first and former prime minister Jawaharlal Nehru as the editor. He served the post until his appointment as the prime minister.
The paper had editions from Lucknow and New Delhi.
Following the Quit India resolution of 1942, the Britishers clamp down the Indian press and the newspaper was shut down between 1942 and 1945.
The Herald reopened in 1945 and from 1946 to 1950 Feroze Gandhi, former prime minister Indira Gandhi's husband, served as the paper's Managing Director.
The paper was later shut down after Indira's defeat in the 1977 General Elections, post the emergency period. By 1986, the paper again faced the prospect of closure but was revived a year later following former prime minister Rajiv Gandhi's intervention.
The Lucknow operations of the paper were shut down in 1998 and much of its property auctioned off under court orders to settle outstanding debts
In January 2008, discussions about the closure began and On April 1, 2008 the paper's editorial in New Delhi announced that it was temporarily suspending operations.
At the time of its closure T V Venkitachalam was its editor-in-chief. (ANI)
This story has not been edited. It has been published as provided by ANI