Delhi engulfed by smog ahead of Diwali, air quality continues to be at 'hazardous' level
PM 2.5 level remained in the 'severe' category at 7:30 am in the morning in Delhi's Lodhi Road area.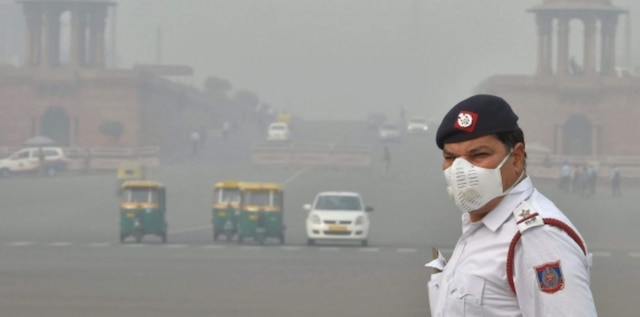 New Delhi:
The national capital remained engulfed by a thick haze even on Tuesday despite improvement in the air quality, making breathing difficult for the residents. The areas around it too continued stifling as a thick layer of smog enveloped the region a day before the festival of Diwali. Though there is a little dip in the smog since Monday, the amount of pollutants in the air still continues to breach the danger mark. Many areas are still placed under the alarming level.
PM 2.5 remained in the 'severe' category at 7:30 am in the morning in Delhi's Lodhi Road area.



Prominent pollutants PM 2.5 in 'Severe' category and PM 10 in 'Poor' category in #Delhi's Lodhi Road area. pic.twitter.com/slo64xwuES


— ANI (@ANI) November 6, 2018
At 8 am , the Air Quality Index in Mundka, Delhi  was 415.


The average Air Quality Index of the city was recorded 449 in the morning which comes under hazardous category. Breathing in such air is equal to smoking 20 cigarettes. In NCR's Noida the Air Quality Index reached 465 inhaling which is equal to smoking 21 cigarettes.

The air quality is predicted to plunge further, ahead of Diwali, owing to local factors.

On Monday, Delhi's air quality deteriorated sharply to fall in the severe category for the second time within a week due to a change in wind direction and rampant stubble burning in neighbouring states, authorities said.  The air quality  in the morning had breached the "hazardous " 700 mark which is  placed in "emergency" or "beyond-severe" category.

As per the reports by PTI,  the overall air quality index today was registered in the severe category at 418. It is a drastic decline from a day before when the AQI was moderate at 171.

Under severe-plus or emergency category, which impacts even healthy people by letting the particle pollutant into the bloodstream, the normal dust masks fail, and even walks are advisable against. In 2016 and 2017, schools were shut down for a few days under similar conditions.