Department for International Trade announces India-UK Future Tech Month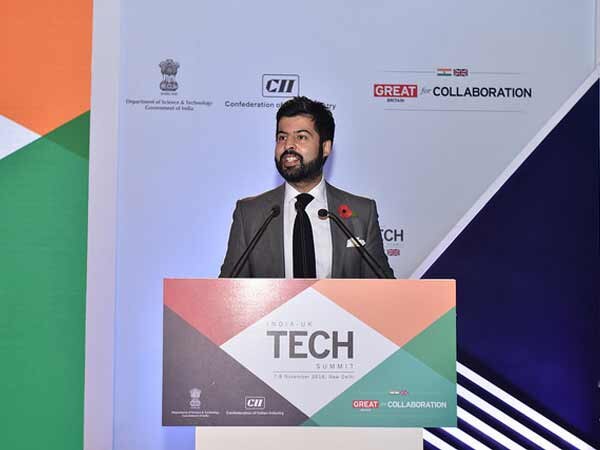 By:

ANI
Updated:
30 Oct 2017 06:25 PM
New Delhi [India], Oct.31 (ANI): The UK government's Department for International Trade (DIT) will curate a month-long series of technology-focused business activities in the UK and India.
The India-UK 'Future TECH' Month DIT India is taking more than 60 Indian companies in ten sectors on a tour of business hubs in Manchester, Liverpool, Birmingham, Leicester, Coventry and London with the objective of inspiring new partnerships, strengthening tech collaboration and landing business deals.
The centre piece of the activity will be an India Zone at Innovate 2017 in Birmingham on 8-9th November.
'Future TECH' Month will showcase the very best UK technology and innovation to a high-quality Indian audience, including buyers, investors, and central and state-level Government officials, spanning sectors as diverse as data analytics, Internet of Things, ICT services, advanced manufacturing, electric vehicles, automotive, healthcare, life sciences, food and drink and creative industries.
British High Commissioner to India, Sir Dominic Asquith, said: "November marks one year since British Prime Minister Theresa May led her first overseas trade mission to India, and two years since Prime Minister Narendra Modi's landmark UK visit. On both occasions, India and the UK demonstrated their 'unbeatable combination', agreeing a range of closer partnerships covering prosperity, science, innovation and technology. These are of course built in PM Modi's words on a 'living bridge' of talent, people, ideas and capital."
"The time is right to redouble our commitment to matching India's technology demands with the UK's very best offer, encouraging UK companies to look to India and to encourage Indian companies to grow their businesses in the UK. We are working with a range of partners in the Government of India to lead this new form of partnership this November. We are already partners in core PM Modi priorities around 'Make in India', 'Digital India', 'Invest India', and we acknowledge the demand for British technology and innovation to meet India's ambitions as the world's fastest growing G7 economy. I am confident this India-UK Future TECH month will inspire British businesses to 'Think India' and will expose India's most ambitious businesses to the breadth and depth of the UK's tech expertise."
At Innovate UK, DIT is bringing together partners from the Indian Government, Invest India, the Indian High Commission in the UK, and the Indian Union Ministry of Electronics and Information Technology, along with Indian State Governments of Karnataka and Kerala. The focal theme of the programme is - 'India's Innovation and Technology Needs - The UK's offer'. A range of informative sessions will showcase the market opportunities in India, launch the Birmingham element of Invest India's 'Access India' programme, and provide crucial information on professional services and ease of doing business in India. This will be supported by thought-leadership sessions on India's 'trillion dollar' digital opportunity and a panel discussion on data analytics, internet of things and big data.
Amitabh Kant, CEO Niti Ayog, is in the UK this month.
He said, India's technology sector is set to triple in the next ten years. Our Prime Minister has listed "Digital India" among his top priorities. We share longstanding deep commercial partnerships with the UK, which we are keen to build on even further. Together India and the UK have the potential to transform many areas including financial technology, cyber security, skill development and R&D.
"There is a digital revolution in India at the moment and the country is inching towards an even more cost-effective digital economy. We have one of the largest digital skilled work forces globally, and are keen to partner with the UK on domestic digital skill development and technology exchange. I see the UK's potential as limitless; India is already the 4th largest investor in the UK with a staggering 31% of investments in the technology and telecom sector. The initiative of bringing Indian and UK businesses face to face in the UK will I am sure develop strong future technology partnerships and business deals."
Innovate UK Chief Executive Dr. Ruth McKernan said", "Innovate 2017 is an excellent platform to showcase the existing strong UK-India innovation links and foster further important business collaborations for the benefit of both our economies. I look forward to welcoming the Indian delegation to our event in Birmingham and hope it will generate some significant business deals and partnerships."
As a part of Future TECH Month, Indian buyers and investors will visit the creative hub at MediaCity in Manchester, the VRTGO augmented and virtual reality conference in Gateshead, the Warwick Manufacturing site and of course Innovate 2017. These visits will be supplemented by business-focused 'meet the buyer' events in the Midlands and Manchester. DIT will facilitate one-to-one meetings with high-growth, innovative, UK exporters to match them with Indian buyers in who want the very best UK products in life sciences, food and drink, automotive, creative and tech services.
In India, DIT is bringing innovative UK healthcare diabetes companies to the Research Society for the Study of Diabetes in India 45th Annual Conference in Bhubaneswar Nov 3-5 and then taking them to meet Indian companies in Chennai. DIT is also bringing an Oncology trade mission to the Indian Cancer Congress in Bengaluru, November 9-12, the same mission will participate in the India UK Healthcare Forum in Mumbai on November 13. (ANI)
This story has not been edited. It has been published as provided by ANI