Despite tasting defeat, PK Dhumal could be Chief Minister of Himachal Pradesh: Sources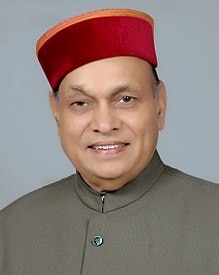 New Delhi: Despite tasting defeat, Prem Kumar Dhumal could be Chief Minister of Himachal Pradesh, said sources on Wednesday.

He faced an embarrassing defeat from Congress' Rajinder Rana at Sujanpur.

Not only Dhumal and but also BJP's state unit president Satpal Singh Satti lost in the Sujanpur and Una constituencies, respectively.

Jai Ram Thakur is the another name whose name is doing rounds.



However, if we talk about people of the Himachal state, their choice is different.

In order to know the mood of the Himachal Pradesh, ABP News talked to the people of the state.

Two names have come out-one Anurag Thakur and other JP Nadda.

Anurag Thakur is the son of Prem Kumar Dhumal.

Thakur is a member of Lok Sabha from Hamirpur in Himachal Pradesh. He is third time MP. Member of 14, 15 and 16th Loksabha.

However, his elevation will definitely trigger debate on dynasty politics.

Jagat Prakash Nadda is currently the Union Minister of Health and Family Welfare and member of Rajya Sabha from Himachal Pradesh. He is also Parliamentary Board Secretary of Bharatiya Janata Party. Earlier, Nadda was a Minister in Himachal Pradesh Government.