Dhinakaran, Stalin spar over 'Dravida Nadu' issue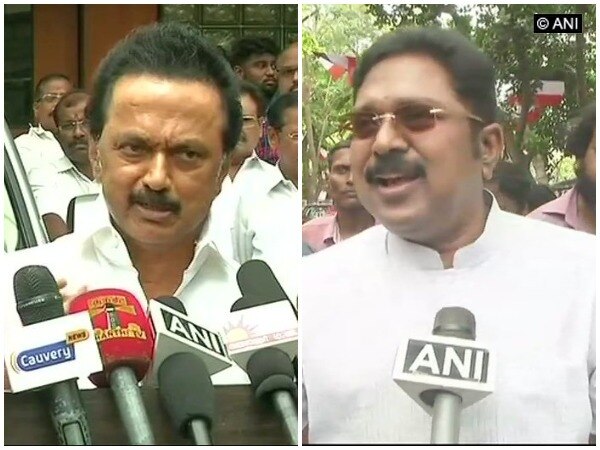 By:

ANI
Updated:
17 Mar 2018 04:35 PM
Chennai (Tamil Nadu) [India], Mar. 17 (ANI): Dravida Munnetra Kazhagam (DMK) leader MK Stalin on has said that he would welcome a situation in which southern States will come together and demand the formation of "Dravida Nadu".
On being asked his opinion on the southern states combining to form a Dravida Nadu, Stalin said in Erode, yesterday, "If this happens, it is welcome and it will happen I believe."
While Stalin supported demand for Dravida Nadu , RK Nagar MLA and ousted AIADMK Deputy General Secretary TTV Dhinakaran differed on the issue and said that the route being taken by the DMK leader will lead nowhere.
Responding to Stalin's remarks about Dravida Nadu, Dhinakaran said, "First let him focus on Cauvery issue, what has he done in all these years when he was in power? He should use his influence to solve the matter, he is taking a route which leads nowhere".
However, Stalin later said that he was just answering a question and that does not mean he is undertaking any campaign for Dravida Nadu.
"Yes I had made remarks on Dravida Nadu but it was only after I was asked question on it but this does not mean that I am undertaking campaign for Dravida Nadu: MK Stalin on his earlier statement on Dravida Nadu", Stalin said.
An idea of a homeland comprising Tamil, Malayalam, Telugu and Kannada speakers, the concept of Dravida Nadu was espoused by EV Ramasamy 'Periyar'. Based on this concept, he advocated the idea of Dravida national identity. He founded his party Dravidar Kazhagan with this as one of the founding principles back in the 1940s to redeem the identity and self-respect of Tamils. (ANI)
This story has not been edited. It has been published as provided by ANI