Diesel taxi drivers protest in Delhi, Noida; block traffic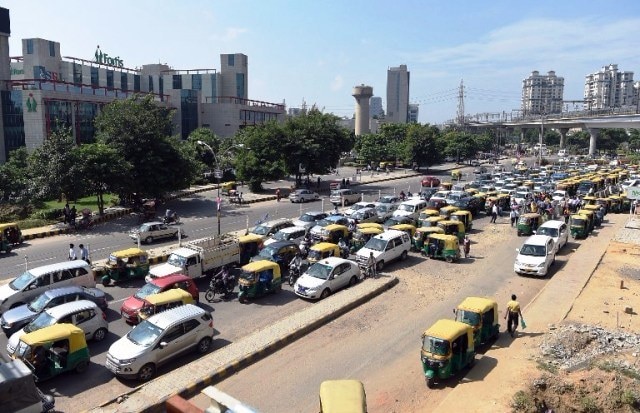 New Delhi: Protest against a Supreme Court decision to ban diesel taxis in the national capital, cab drivers on Monday locked traffic in Delhi's border areas connecting Gurgaon and Noida.

The taxi drivers first blocked traffic near west Delhi's Rajokri area obstructing traffic in both the carraigeways from Dhaula Kuan to Gurgaon.

"The taxi drivers on Monday morning blocked both the carraigeways on Rajokri flyover near the old Delhi toll booth on Gurgaon to Dhaula Kuan road," a traffic police official told IANS.

The blockage eventually led to a massive traffic snarl on the Delhi-Gurgaon route with vehicles lined up behind one another for up to 1 km, an official said.

Several commuters had a harrowing time as they rushed to reach their offices as the drivers also blocked traffic on the Noida side of the Delhi Noida Direct (DND) flyway leading to a massive congestion.

"Private commercial vehicle drivers obstructed the traffic just after the Delhi-Noida expressway leading to heavy traffic," a DND official told IANS.

"Now the obstruction has been cleared," he added.

The apex court on Saturday had refused to give more time to taxi operators to switch to the cleaner compressed natural gas (CNG) and banned the diesel-based taxis to run in Delhi and National Capital Region (NCR) from May 1.

The deadline for the change was extended twice.