DMK's DM Kathir Anand Wins Vellore Lok Sabha Seat, Defeats AIADMK's AC Shanmugam By Over 8,000 Votes
While the DMK managed to secure a lead of 4,625 votes after the 10th round, it surged ahead subsequently and increased the margin to 7,895 votes.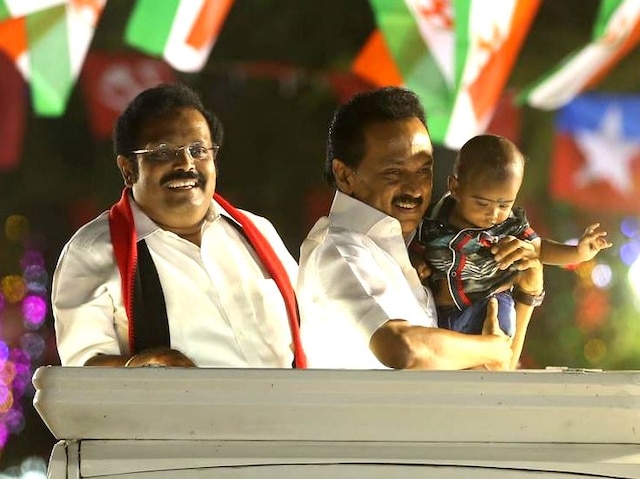 By:

PTI
Updated:
09 Aug 2019 05:34 PM
VELLORE: In nail biting finish, DMK's DM Kathir Anand on Friday won the Vellore Lok Sabha seat in Tamil Nadu defeating his nearest rival AIADMK's ally AC Shanmugam by a narrow victory margin of 8,141 votes, the Election Commission said on Friday. The election to the Vellore was due on April 18 but was called off after Rs 10 crore were seized allegedly from DMK leaders in the district. DMK's victory is being perceived as a verdict against the ruling party, with the state poised to face the assembly elections in 2021 at the end of the current term.

Right from start of the counting process this morning, the AIADMK was ahead of the DMK with the margin crossing 15,000 votes in successive rounds before it dwindled to 6,362 votes by the 10th round. It surged ahead subsequently and increased the margin to 14,214 votes after the 11th round.

Speaking to the media, even before the results was announced, DMK spokespern TKS Elangovan said the low victory margin may be due to the announcements made by Tamil Nadu Chief Minister K Palaniswami which were in violation of the model code of conduct. The CM had even made a promise to bifurcate the Vellore district.

The DMK-led front won 37 of the 38 Lok Sabha seats in Tamil Nadu, polling for which was held on April 18.

The AIADMK campaign was led by Chief Minister K. Palaniswami and Deputy Chief Minister O. Panneerselvam. DMK President M.K.Stalin led the campaign for Anand.

Fresh polling was held on August 5. The constituency has 14.32 lakh voters spread in six Assembly segments and 71.51 per cent votes were polled. The EVMs, the control units and Voter-Verifiable Paper Audit Trail (VVPAT) devices were moved to Ranipet Engineering college premises after the polls.
The votes are being counted in a tight security environment which includes deployment of 70 CCTV cameras on the college premises, 35 km from here.