DMK walks out of TN assembly, attacks Palanisamy's 'benami' AIADMK Govt.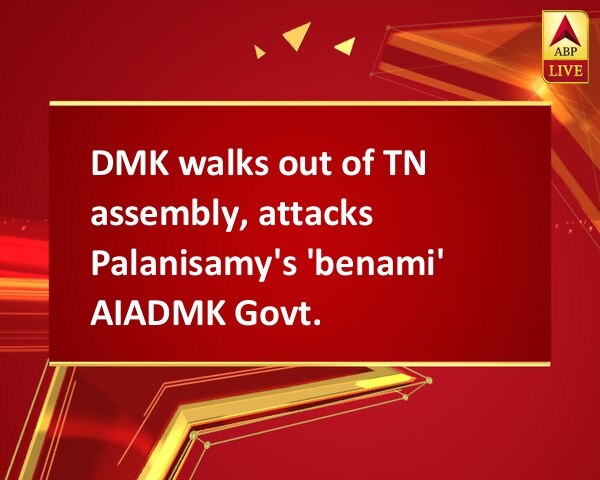 By:

ANI
Updated:
16 Jun 2017 01:40 PM
Chennai (Tamil Nadu) [India], June 16(ANI): The Dravida Munnetra Kazhagam (DMK) on Thursday staged a walk out from the Tamil Nadu Assembly for the third consecutive day after discussions on the alleged sting operation of AIADMK MLAs accepting bribes, was not allowed to take place.
DMK acting president M.K Stalin said he was not allowed to submit a CD containing proof of the alleged 'horse trading' of the AIADMK MLAs ahead the February trust vote.
"I came here to give the CD, but I was not allowed to submit it. Moreover, when I tried to seek discussions on the same, it was not allowed. If such thing persists, how can one expect democracy inside the assembly. Hence, in protest against this, we staged a walkout of the assembly," Stalin said.
Stalin further said that the refusal to allow discussions 'proved' that the charge against the AIADMK MLAs was right.
"It is now proved that thousands of crore rupees was used to buy support, and based on that, Edapadi Palanisamy is running a 'benami government' in Tamil Nadu," he said.
A sting operation by an English news channel had revealed that all the AIADMK MLAs were lured in by cash and gold by the rival Sasikala camp to support Chief Minister Edapadi K Palanisamy in the February trust vote conducted in Tamil Nadu Assembly.
Palanisamy won the trust vote held in the state assembly on the back of support offered by 122 AIADMK legislators.
South Madurai MLA Saravanan, who had deflected to the OPS faction, admitted on camera that Sasikala camp offered him money between Rs. 2 crore to 6 crore for his support.
Meanwhile, AIADMK leader O Panneerselvam has sought an explanation from his loyalist MLA SS Saravanan from AIADMK's rival Sasikala faction.
"Lawmaker Saravanan in the sting operation gave some explanation. We have demanded the same explanation from him," O Panneerselvam said.
State Finance Minster D Jayakumar refused to give an explanation apart from saying, "Like you, I also watched the TV. I don't know exactly what happened. The matter is pending before the court. Hence, it would be unwise to comment."
The DMK severely criticised the ruling AIADMK government over the matter alleging that the party's inter-relationship was purchased and not natural. (ANI)
This story has not been edited. It has been published as provided by ANI