EVM row: Protesting AAP places three demands in front of Election Commission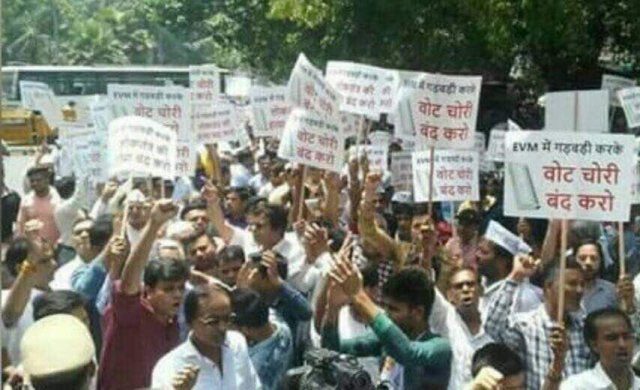 New Delhi: The Aam Aadmi Party (AAP), which has been raising the issue of EVM tampering by the opposition for a long time staged a protest outside the office of the Election Commission of India (ECI) over the Electronic Voting Machine (EVM) row on Thursday.

Delhi Labour Minister and AAP leader Gopal Rai who was a part of the protest put forward their three demands in front of the EC. He said, "If the EC claims that its machines cannot be tampered with, then, we demand them to give us their machines and we will show them by hacking it."

Demand 1: While addressing media, AAP leader Saurabh Bhardwaj demanded that a committee should be made which should comprise of Election Commission members and people from AAP's technical team, we would then prove it to the Election Commission that the EVMs can be tampered with

Demand 2: "We demand that the questions that have been raised regarding EVMs are resolved. Questions were raised in Uttar Pradesh, Maharashtra and Punjab etc, so we want to appeal to the ECI that they give us their machine and we will show them by hacking it.

Demand 3: Secondly, we want that the Supreme Court's 2013 order of conducting elections by VVPAT should be implemented, and third, voting machine and the slips should be tallied," Rai told media.

One of the protesters said, "We want the ECI to wake up and amend the machine. The BJP had been winning by taking all votes into its basket. And, our demand is that all the elections that have taken place should be recalled again." The protesters were seen chanting slogans, "EVM mei gadbadi karke vote chori band karo. EVM mei gandbad karke Loktantra ki hatya band karo."

AAP demonstrates EVM tampering:

Coming down heavily on the Bharatiya Janata Party (BJP) over the EVM tampering row, the AAP on Tuesday staged a "live demonstration" of alleged EVM manipulation in the Delhi Assembly.

AAP's Saurabh Bhardwaj, MLA from Greater Kailash constituency in the Delhi State Legislature, on Tuesday demonstrated that EVMs can be tampered with by making changes in secret codes.

Bharadwaj further said that the secret code was easy to enter as the ballot unit was covered by a cardboard box and therefore, only the voter can see inside it. Bharadwaj also condemned the enquiry report of the Election Commission, saying that it had no basis.