Ex-Nagaland CM Liezietsu sworn in as MLA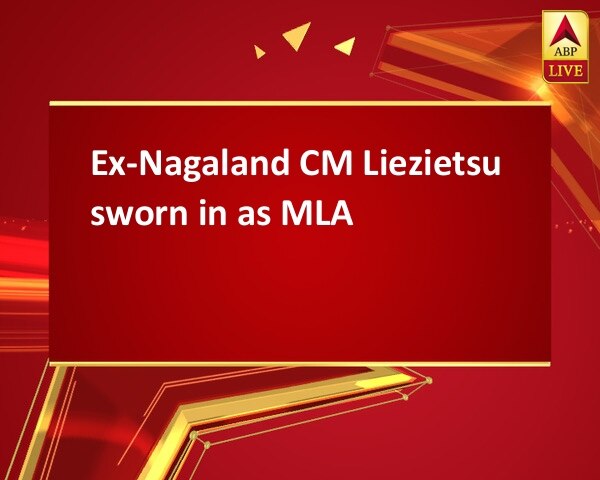 By:

ANI
Updated:
08 Aug 2017 06:10 PM
Dimapur (Nagaland) [India], Aug.8 (ANI): Former Nagaland chief minister Dr. Shurhozelie Liezietsu, was administered oath as member of the state assembly on Tuesday.
Dr. Liezietsu recently won the bye-election in the 10 Northern Angami assembly constituency.
Nagaland Assembly Speaker Dr. Imtiwapang Aier administered the oath to the newly elected member in the presence of other MLAs and senior party workers.
Dr. Liezietsu's swearing-in ceremony came a day after a second petition seeking disqualification of 10 Nagaland People's Front legislators have been filed before the Speaker by the Whip of the NPF party and chief minister, T.R. Zeliang.
The disqualification petition was filed in Form P-2 before the Nagaland Legislative Assembly (NLA) Speaker as prescribed by the Members of Nagaland Legislative Assembly (Disqualification on Ground of Defection) Rules, 2003, against-- Kiyanilie Peseyie, Y. Vikheho Swu, Chotisuh Sazo, Kuzholuzo Nienu, Yitachu, C.L John, N. Thongwang Konyak, P. Longon, R. Tohanba and R. Torechu.
The 10 NPF legislators had "acted contrary to the direction issued by T.R. Zeliang on July 19, 2017 as Whip of NPF during the sitting of the House held on July 21," the CMO stated.
Earlier on August 4, CMO said that T.R. Zeliang had filed a composite disqualification petition against the 10 legislators seeking their disqualification under Paragraph 2(1)(b) of the Tenth Schedule, of the Constitution.
Dr. Liezietsu won the bye-election last Thursday, defeating his independent rival by 3470 votes. Dr Liezietsu polled 8026 votes, while rival Kekhrie Yhome got 4558 votes. (ANI)
This story has not been edited. It has been published as provided by ANI