Fan frenzy: 'Amma' supporters make Idly weighing 68 kgs in form of late CM's face in Chennai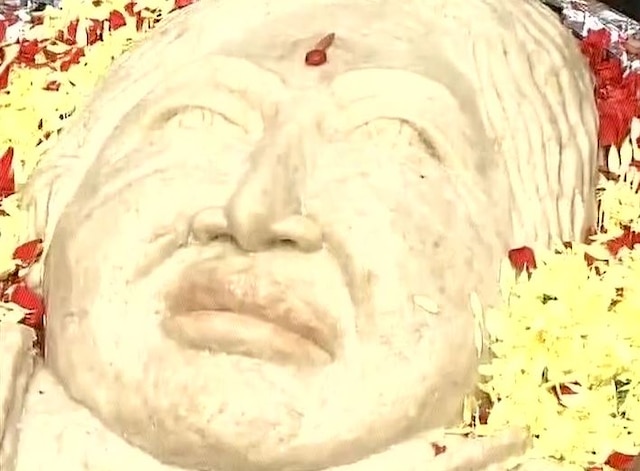 New Delhi: On Tuesday, an Idly weighing 68 kgs was made by the people of Chennai in the form of the late Tamil Nadu Chief Minister J Jayalalithaa's face at Marina Beach.
Tamil Nadu's ruling AIADMK had said 77 persons died due to shock after hearing about the illness and later the demise of Chief Minister J. Jayalalithaa and announced a solatium of R. 300,000 to their families.
Image Courtesy: ANI
No one was oblivious to the love the people of Chennai had for their late Chief Minister who passed away on the evening of December 5 after suffering cardiac arrest.
However, the 68 kg idly signifies that the frenzy among her fans is still not over.
Image Courtesy: ANI
Jayalalithaa was fondly called 'Amma' meaning Mother by the party workers.


Freebies galore and populist schemes under the popular 'Amma' brand became the hallmark of late Jayalalithaa's tenure as Chief Minister. She had made a slew of announcements including providing free rice, laptops to students, milch cows and goats, mixer-grinder, and gold for 'thali' (mangal sutra).


Jayalalithaa had further consolidated her welfare icon image with her Amma brand subsidy-oriented schemes like Amma Canteen, Amma Mineral Water, Amma cement and Amma salt.


During the 2016 elections, Jayalalithaa expanded her populist portfolio, including free 100 units of power for domestic users, free mobile phones and 50 per cent subsidy for women to buy two-wheelers.


Jayalalithaa stood as a symbol of dynamism, bravery and was known for sharp intellect.


From the night of September 22 when she was hospitalised for fever and dehydration, various union ministers and film personalities, besides well-known people from various walks of life, had visited the hospital to enquire about her health.
The hospital had been issuing updates on the health status of the 68-year-old leader, varying from her recovering well to her being in a critical state.
Apollo Hospitals chairman Dr Prathap C Reddy and a host of leaders had evinced confidence that Jayalalithaa would return following her recovery.
Special prayers were constantly held by lakhs of party workers across Tamil Nadu in temples and other places of worship soon after being hospitalised.
Soon after she suffered a cardiac arrest on December 4 a flurry of activities had been taking place at the hospital.
This included deployment of additional forces and anxious party cadres hoping for recovery of their charismatic leader frequenting the hospital to enquire about her health status.
As news of Jayalalithaa's death spread across the state, several traders downed shutters while government declared three day holiday for schools and colleges.
(With inputs from PTI)