Five Indian Everest climbers missing: Nepal Police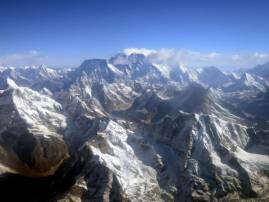 Kathmandu: Five Indian climbers attempting to scale the world's tallest peak, Mount Everest in Nepal, have gone missing, Nepal Police said on Sunday.

They were reported missing since Saturday morning while attempting to climb the towering 8,848-metre-peak, said Solukhumbu District Superintendent of Police Madhav Prasad Budathoki.

Everest is in Solukhumbu district of Nepal.

The Indian climbers went missing when they were at a height of 8,000 metres.

The police officer said search and rescue efforts were beaten back by bad weather.

Kathmandu's English daily The Himalayan Times reported that at least two Indian climbers had gone missing above 8,000 metres on the Mount Everest while another sustained frostbite injuries while attempting to summit the peak from the Nepali side.

According to Wangchu Sherpa, managing director at Trekking Camp, the organisers of the expedition, there was no contact with two climbers from West Bengal -- Paresh Nath and Goutam Gosh -- since Saturday night.

The daily reported that other team members Sunita Hazra and Subhash Pal were, however, rescued by Sherpa climbers to lower camps.

"The Sherpas rescued two of them near the south summit point while the fate of two others is still unknown," Sherpa said.

He said Subhash, along with a climbing Sherpa, made it to the summit while others were said to be suffering from severe illness due to inclement weather. Four Sherpas were also stranded near Camp IV, officials said.

Meanwhile, an Indian woman climber who suffered severe frostbite injuries near Camp IV while descending from Mt. Everest summit was airlifted to a Kathmandu hospital.

"Seema Goswami is undergoing treatment at Norvic hospital," Pemba Sherpa, manager at the Seven Summit Treks, said. Seema sumitted Everest on May 20.