Fodder scam verdict: Lalu Yadav held guilty, quantum of punishment on Jan 3
Fodder scam verdict: Former CM Jagannath Mishra acquitted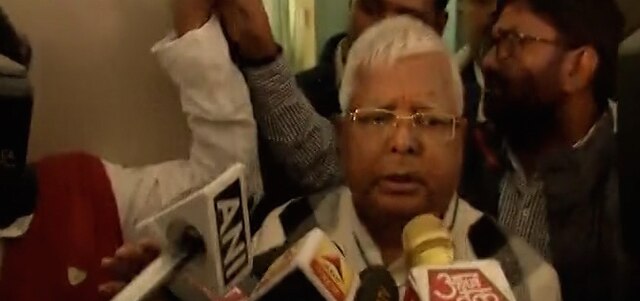 Ranchi:
The fate of former Bihar chief ministers Lalu Prasad Yadav and Jagannath Mishra and 20 others will be decided today by a special CBI court here in the fodder scam case pertaining to fraudulent withdrawal of more than Rs 89 lakh from Deoghar Treasury between 1991 and 1994.
Lalu, accompanied by younger son Tejaswi Yadav, arrived here to present himself before the special CBI Judge Shiv Pal Singh.
Fodder scam verdict LIVE UPDATES:


Lalu Yadav tweeted after verdict, "Truth can be made to appear as a lie, as ambiguous or a half lie by concerted onslaught of bias driven propaganda. But blurred layer of bias and hatred will still be removed, come what may! In end Truth will win"


"Powerful people and powerful classes always managed to divide society into ruling and the ruled classes. And whenever anyone from the lower hierarchy challenged this unjust order, they would be deliberately punished" Lalu added


Ranchi's Special CBI Court to pronounce quantum of sentence on January 3rd, 2018 for the 15 guilty including Lalu Prasad Yadav


Lalu Prasad Yadav handed over to police


Lalu Prasad Yadav to be taken jail


Lalu Prasad Yadav held guilty


Jagannath Mishra acquitted


Judge Shiv Pal Singh reaches court





Security outside CBI Special Court in Ranchi ahead of verdict in #FodderScam case. pic.twitter.com/LPPYIOoc0s


— ANI (@ANI) December 23, 2017

Visuals from outside CBI Special Court in Ranchi, ahead of verdict in #FodderScam case. pic.twitter.com/3jvJP5zUd5

— ANI (@ANI) December 23, 2017



All accused present in court room


Former CM Jagannath Mishra also present in court


Lalu Yadav leaves for court


ED files charge-sheet against RJD Chief Lalu's Prasad Yadav's daughter Misa Bharti, her husband and others in Delhi's Patiala House Court over a money laundering case. (File Pic) pic.twitter.com/shHT9A2SfJ

— ANI (@ANI) December 23, 2017


The judgement will come at 3 pm: Lalu Prasad Yadav's lawyer Prabhat Kumar


"I'm from backward class, have chances of getting justice," says Lalu Yadav


Judgement to come around 3 pm


Lalu Yadav along with Tejaswi Yadav about to reach court


"I'm innocent," says Lalu Yadav


"I have full faith in judiciary," says Lalu Yadav


Lalu Yadav leaving for court


"I'm hopeful that judgement will come in our favour," says Tejasvi Yadav


Decision likely to come around 11 am


Besides the two ex-chief ministers, former MP R K Rana, three former IAS officers - Phoolchand Singh, Beck Julius and Mahesh Prasad - are also among the 22 accused in the fodder case.
The other accused in the case include former Bihar minister Vidya Sagar Nishad, former Public Accounts Committee chairmen Jagdish Sharma and Dhruv Bhagat.
A chargesheet was filed against 38 persons on October 27, 1997.
Eleven of them died and three turned approvers while two other accused confessed to their crime and were convicted in 2006-07, a CBI official said.
The accused are facing charges under IPC sections 120B, 409, 418, 420, 467, 468, 471, 477 (A), 201 and 511 and under Prevention of Corruption Act section 13 (1) D read with 13 (2).
The order was reserved on December 13. Lalu faces three other fodder cases.