Fog alert: One dead in a 12 vehicle crash at Yamuna expressway, two in a truck-auto collision in UP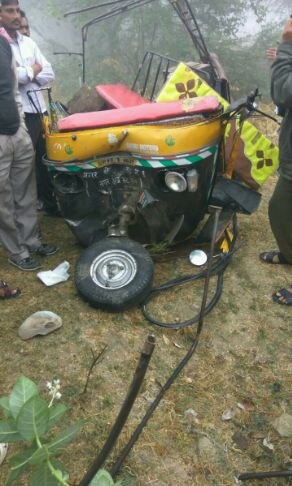 New Delhi: At least 12 vehicles crashed into each other due to dense fog at Yamuna expressway leaving one dead and more than 10 injured in Mathura, reported ANI.
Image Courtesy: ANI
Image Courtesy: ANI
Image Courtesy: ANI
In Uttar Pradesh, a head on collision took place between a truck and an auto rickshaw in Hamirpur due to dense fog. Two have been reported dead and six injured, reported ANI.
Image Courtesy: ANI
Image Courtesy: ANI
Image Courtesy: ANI
In the national capital as well, a number of flight operations and train services were affected on Thursday as dense fog enveloped the national capital and reduced visibility to less than 50 metres in the morning.
A statement from the Northern Railway said 40 trains heading for Delhi were delayed.
Image Courtesy: ANI
Another 12 trains that were supposed to leave from here were also rescheduled, it added.
The authorities at Delhi's Indira Gandhi International airport told IANS that six flights were diverted due to low visibility.
"Things improved by noon and now operations are normal," the official said.
The visibility improved from 50 metres to 800-1,000 metres around noon as a south easterly wind picked up, an official of the India Meteorological Department (IMD) told IANS.
Thursday was the second day that north India has been fog-bound affecting normal life in the morning. The phenomenon, which spells the onset of winter in right earnest, shall prevail for the next few days, the Met office here said.