Fog continues to hit rail traffic: 34 trains delayed, 2 cancelled, 7 rescheduled today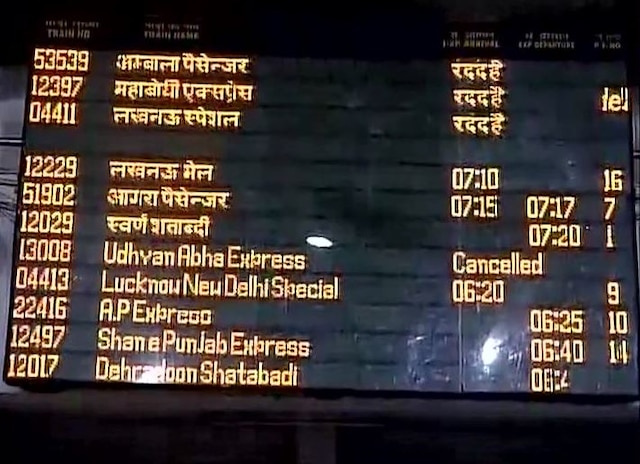 New Delhi: At least 34 trains were delayed and two cancelled on Tuesday due to fog in most parts of north India, a railway official said.
According to the Northern Railway official, the Jogbani-Anand Vihar Express was running over 11 hours behind schedule, the Swatantrata Senani Express was 24 hours late and the Shaheed Express was over 9 hours 30 minutes late.
The official also said that at least seven trains were rescheduled.
Image Courtesy: ANI
Meanwhile, according to the Delhi International Airport Limited, which manages operations at the Indira Gandhi International airport here, flight operations were not affected on Tuesday.
Image Courtesy: ANI
New Delhi woke up to a misty morning with the minimum temperature recorded at 11.2 degrees Celsius, three notches above the season's average.
While the minimum was nearly five degrees more compared to yesterday, which was the coldest day of the season, it will dip again in the coming days, the met office said.
"There was mist and shallow fog in the early morning hours. The maximum temperature is expected to be around 25 degrees Celsius," a weather official said.
Visibility was recorded at 1200 and 800 metres at 5.30 AM and 8.30 AM respectively which did not disrupt air traffic.
However, 34 north-bound trains were running late and seven have been rescheduled, a railways spokesperson said.
Yesterday, the minimum temperature was 6.6 degrees Celsius.