EXCLUSIVE: Freedom of the press is vital, but must be used responsibly, says Shashi Tharoor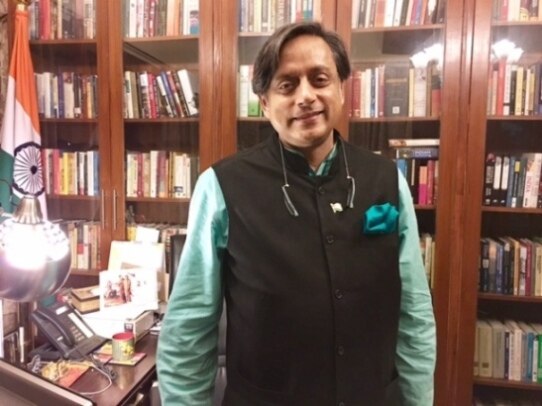 New Delhi: Congress' stalwart Member of Parliament Dr Shashi Tharoor has been recently in news for turning thumbs-down on Bharatiya Janata Party's (BJP) Union Budget 2017-18.

The politician, who is also a renowned writer and a former diplomat, like other Congress party members has also criticised the demonetisation move of the central government.

On Wednesday, in an exclusive interview to ABP Live's Anurag Kumar, Congress' veteran leader spoke in-depth regarding on wide range of issues. Read on:

Q1) Your comments on Union Budget

Dr Tharoor: Budget has a number of limitations. One of the things that concerns me very much is that there are absolutely no indications on how jobs will be created. There seem to be few good things which are largely continuation of existing schemes invented by UPA government.

A lot of other things are not so impressive and fiscal deficit targets have slipped. I have some real misgiving about this budget.

Whatever they are giving it with one hand, they are taking away via taxes with another.

Q2) You are a globally recognised speaker on freedom of the press. How important is it to have a free press?

Dr Tharoor: Freedom of the press is vital. It is mortar that binds together the bricks of freedom. In every society, you must have a free press, able to understand what's on people's mind. Because the media, by and large, caters to what people want to hear.

For every government it is important.

But at the same time that freedom must be used responsibly. Unfortunately, in our country, we are seeing some really low form of sensationalism which doesn't serve the public interest.

Q3) Samajwadi Party (SP) is considered as one which failed to control law and order in the state, so do you think Congress joining hands with SP will affect former's image?

Dr Tharoor: Congress joined hand with SP in an acknowledgment of political reality. If you want to come to power an alliance always help as we witnessed in Bihar. So you have to accept that there is some political reality.

Secondly, ideologically we have no problem with the Samajwadi Party. We both are a leftist-centre party. By and large, we have common ground we can work on.

Q4) If alliance comes to power in Uttar Pradesh, will you keep a demand for deputy Chief Minister which will be from Congress party?

Dr Tharoor: I honestly have nothing to do with those decisions so I don't want to make an announcement that might create a problem. My guess work is that all these decisions will be taken after the election results are known.

Q5) Sometimes we hear rumours that you may join BJP, you go soft on BJP, is it a fact?

Dr Tharoor: Certainly not. Let me explain. I am a liberal and believe in the pluralistic definition of India. I always considered myself a fair-minded individual and because I belong to a political party, I do not lose my appreciation of specific initiatives.

But my appreciations have been misrepresented and exaggerated. For example Swachh Bharat issue. PM Narendra Modi asked me to do it. I thought it was a sensible, non-political venture which the country really needs. I myself, having lived abroad for a long time, repelled by our poor standards of public hygiene. So I was very happy to support it in the same spirit that Mahatma Gandhi had supported (good causes).

I want to convey it clearly that there is no pro-BJP message in it. There is a pro-cleanliness message in it.

Q6) You are a writer and have already written many books. Are you coming up with any new book?

Dr Tharoor: I'm getting too busy and still promoting my latest one (An Era of Darkness: The British Empire in India) which has come in November last year.

There may be a new book in future about we Indians, our national character...not such a serious book..just my own reflections. But finding time (for writing it) is my biggest challenge.

Q7) You have played many roles--politician, diplomat, writer--which one you like the most?

Dr Tharoor: I have enjoyed all the roles. I'm already a former minister, one day I will be a former MP but I will never be a former writer. Ultimately, my main legacy will come out of my words, my ideas.

Q8) Recently you said Ramayana and Mahabharata should be taught in schools. Why did you say that?

Dr Tharoor: Because our educational system has unfortunately not made it compulsory for our children to imbibe some of our own cultural and civilisational values.

We must read about Kalidas and his work. He is a magnificent writer. His work is equal to the work of Shakespeare or any other great writer.

But I'm not suggesting both, the Ramayana and the Mahabharata, to be read as the religious texts.

Q9) Do you think there is a need for Indianisation of education system? If yes, then how you think that the future generation will compete with the western world?

Dr Tharoor: Yes. But Indianisation of our education system doesn't mean eliminating modern subjects. It means using all of these but not forgetting the domestic context.

Q10) Your comment on demonetisation.

Dr Tharoor: It is extremely ill-conceived, poorly thought through, badly planned, incompetently implemented and as a result it has done far more damage than good.

Q11) You were already a diplomat,  how you see the PM Narendra Modi's foreign policy?

Dr Tharoor: There I'm a little more positive that Mr Modi has bought a lot of personal energy into his diplomacy. He has been an affecting traveling salesman for India but you can only sell a convincing product. If reality at home is a mess you can't sell your product abroad.

I want to compliment him for putting a lot of personal energy into foreign policy but he must also pay attention to rectify the situation at home.

Q12) You said-"Anti-defection law has negative impact on democracy", shed some light on this.

Dr Tharoor: Initially I was a very strong supporter. But in practice, the anti-defection law has suppressed the freedom of conscience of individual legislators who are not defecting. Because every issue now has a whip, the anti-defection law means that if your party said if you defy your party whip, you will be expelled from the Parliament, not just the party.

You can't vote as per your conscience because of anti-defection law.

I want this law to only apply in the case of vote of confidence and money bill.

Q13) How you see Congress' performance in polls in UP, Punjab and Goa?

Dr Tharoor: Very positive so far. In UP the momentum is with us. In Punjab, every indication is that we are likely ahead. In Goa, it's neck-and-neck. In Manipur, we are ahead and finally, Uttarakhand is fairly evenly balanced and effective policies decisions of Harish Rawat will give us positive results.

Shashi Tharoor is currently serving as Member of Parliament (MP), Lok Sabha (LS) from Thiruvananthapuram, Kerala since 2009. Tharoor also currently serves as Chairman of the Parliamentary Standing Committee on External Affairs.