French President Emmanuel Macron bids an emotional goodbye to India, conveys one last message
Before wrapping up his visit, President of France Emmanuel Macron, shared an emotional message for the Indians. Watch here.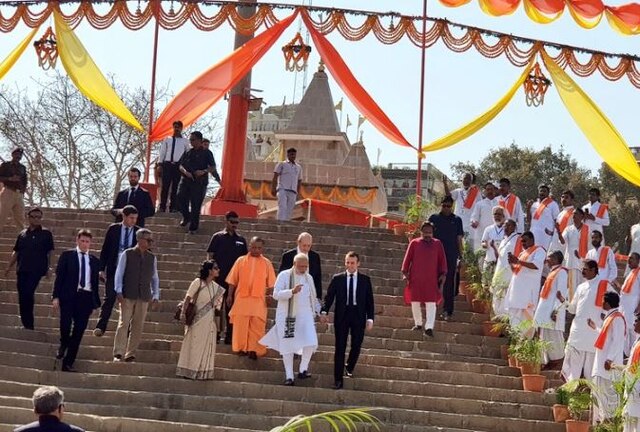 New Delhi:
After his four-day-visit to India, spanning New Delhi, Agra and Benares, the President of  France, Emmanuel Macron bade an emotional goodbye to India and warmly exhorted the people of India to choose France.
Crowd on both sides of the street cheering for him as his troop passed by, a warm traditional welcome and a tranquil boat ride in Ganges - that was Varanasi for Emmanuel Macron- the last destination of his trip.  While in the holy city of India, he posted a heartfelt message on social media for the Indian people, telling how moved he was.
Recollecting his experience in India he said: "I just want to Thank You India. Thank you for these three days in Delhi, in Taj Mahal, and today in Benaras. We, with my wife, spent three marvelous days here. "
Thanking Prime Minister Modi for the hospitality he said: "I wanted to say thank you to Prime Minister Modi, for the very warm welcome. We worked very hard, we decided on a strategic partnership, new decisions from a security, economic, energy and environment point of view."
He lauded the launch of the International Solar Alliance that was co-hosted by India and France. He said that it shall pave way for further achievements. "We launched the International Solar Alliance, which is not only a very great achievement at this stage, but a beginning of new achievements", he said.
A touched Macron said that during this trip he discovered the real India and that it was an emotional experience for him to be with the Indians.
He said: "I discovered India. I have to say. I want to tell you how emotional it was for me to be with you during these days and to spend hours with the young people in Delhi and to be with you in Benares today. So thank you India."
He urged the young Indians including students, entrepreneurs, academicians, researchers and leaders to choose France for their pursuit.
This was his one last message: "I just wanted to convey one last message, Choose France. Young people, young Students, entrepreneurs, academics, researchers, Indian leaders choose France. You're very very much welcome, and I 'll be very proud to make my country an entry point for you in Europe and to be long-term strategic partner for you."
"Thank You India, Choose France. Bye Bye !"



Thank you India, #ChooseFrance! pic.twitter.com/GBXPKBjWLM


— Emmanuel Macron (@EmmanuelMacron) March 12, 2018
Macron Varaan
He tweeted yet another video captioned "Thank You Varanasi".



Thank you Varanasi! pic.twitter.com/xuoZ4zWWtq


— Emmanuel Macron (@EmmanuelMacron) March 12, 2018