Bizarre wedding: Frog married to a bamboo puppet to ensure rainfall in Assam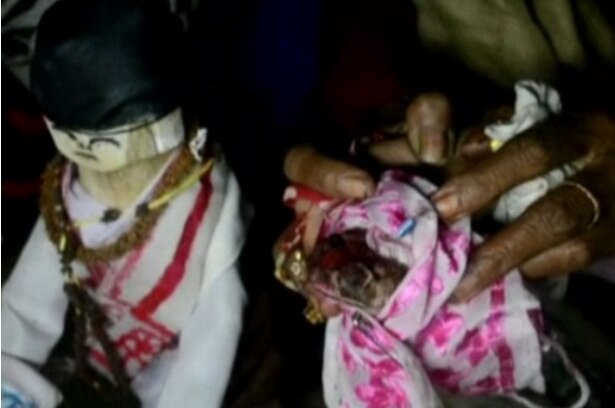 By:

ANI
Updated:
29 Nov 2016 10:03 AM
Guwahati: Lakhimpur witnessed an extraordinary event, where two souls were united solely with the intention of appeasing the rain god Indra, however, the bride and groom appeared to be without any embellishments and were silent throughout the ceremony as the bride was a frog and the groom a bamboo puppet!
According to mythological belief, holding a frog marriage ensures ample rainfall. As part of the wedding, a wild female frog is married off to a wooden figurine, representative of the Hindu god of rain, Indra.
"We have faith. Last year also, we had performed this ritual, so, all of us who have been affected by poor rainfall, have decided to hold this ritual. We have proof of last year. This year also we expect god to be kind to us, and therefore, we have organized a frog marriage," said a local resident.
The wedding was solemnized by a priest and all rituals held were the same as that of a standard Indian wedding. Vermillion was applied on the frog's forehead - insignia of a married Indian woman.
Women and children gathered to take part in the wedding.
Even in this age and time, marriages of frog, goat, donkey and tree are still solemnized in Indian interior villages for the early arrival of the monsoon.