Geetha Johri becomes first woman DGP of Gujarat, replaces PP Pandey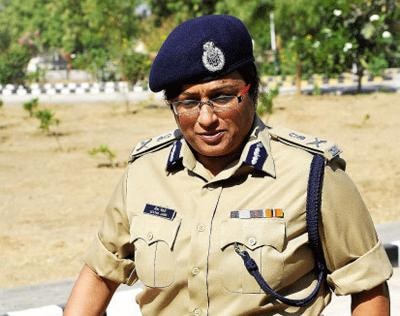 New Delhi: Geetha Johri was on Tuesday appointed as the new Director General of Police of Gujarat.
The 1982 batch officer was the first woman IPS officer in the state and now becomes the first woman chief of the state's police force.
Johri replaces PP Pandey who had resigned from his post.
Gujarat Minister of State for Home Pradeepsinh Jadeja on Monday had said the outgoing DGP-in-charge P P Pandey decided to step down to spare the government from likely embarrassments due to the litigation against him.
Pandey, a 1980 batch Gujarat-cadre IPS officer, is an accused in the alleged fake encounter case of Ishrat Jahan. He is presently out on bail.
ALSO READ:
Yogi Adityanath orders officials to check high fee structure in private schools
"To save the government from getting into an embarrassing position due to the ongoing litigation in the Supreme Court, Pandey himself expressed his willingness to step down as the states DGP-in-charge two days back. The same was conveyed to the apex court today," Jadeja told reporters in Gandhinagar after meeting senior officials.
Earlier, the Supreme Court allowed the Gujarat government to accept Pandeys offer to quit as states Director General of Police-in-charge to relinquish his office with immediate effect. Pandey is on extension till April 30.
Pandeys appointment and extension has been challenged by former Mumbai Police Commissioner Julio Francis Ribeiro, who has said in his public interest lawsuit that Pandey was granted bail, reinstated, promoted and rewarded despite being an accused in a murder case.
"The process of accepting his resignation would be completed by tomorrow. The decision to appoint a new DGP or a DGP-in-charge would be taken after that," said Jadeja.
Presently, the 1982-batch IPS officer Geetha Johri, is the senior most officer after Pandey.
Other officers who were in contention for the post of DGP were 1983-batch IPS officer Pramod Kumar and 1983-batch officer Shivanand Jha.
On April 16 last year, Pandey was appointed as the states DGP-in-charge following unexpected transfer of erstwhile DGP P C Thakur to Delhi.
Later on January 31 this year, a day before his scheduled retirement, Pandey was given a 3-month extension by the Centre.
Apart from serving as the states DGP-in-charge, Pandey heads the state Anti Corruption Bureau (ACB) as its director since February 2015.
According to Jadeja, the state government would seek legal opinion on whether Pandey needed to step down from that post too before completing his extension period.
"Pandey gave 38 years for the safety and security of this state. He did a commendable job as an officer. As he has not been convicted by the court, it is not proper to call him guilty," said Jadeja.
After being released on bail, Pandey was taken back in the service in February 2015 and was made the states ACB director.