Ghazipur stone-pelting incident: Son of deceased cop says 'UP Police cannot protect their own men'
As per the police officials, the general secretary of the Nishad Party, Sanjay Nishad, is the main accused of the incident.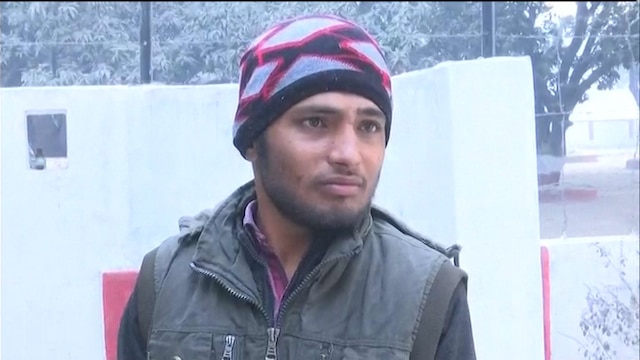 New Delhi: Police constable Suresh Vats who lost his life in the stone-pelting incident in Uttar Pradesh's Ghazipur while trying to control protesters, was paid homage on Sunday, amid heavy criticism of the government by the opposition parties in the state.

Vineet, son of the deceased cop, said while talking to ABP News what would the family do with compensation now when his father cannot come back. He further said "UP police cannot even protect its own men, how can we expect them to help us?"

"I don't understand why police is being targeted everywhere. Earlier, similar incidents took place in Bulandshahr and Pratapgarh. The threat is now on police. " he said.

"Father called home at 3 pm yesterday. He spoke to my mother and sisters. But at 6 o clock we received call that Papa has died due to injuries. Now, how will compensation bring him back?" he said.

He further said "I have just completed my M.Sc final studies and now I have to look after my mother and my sisters. I do not understand what to do."

UP CM Yogi Aditynatah has announced a compensation of Rs 40 lakh for the wife of the deceased constable and Rs 10 lakh for his parents, the state government said.

Former CM and SP leader Akhilesh Yadav targeted CM Yogi for the incident and said that the CM irrespective of where he is, uses the language of violence. The existence of hatred in the society leads to such incidents. He was quoted by news agency ANI as saying: "Ye ghatna isliye ghati hai kyunki CM sadan mein ho ya manch pe ho unki ek hi bhasha hai 'thok do'. Kabhi police ko nahi samjh aata kise 'thokna' hai kabhi janta ko nahi samajh aata kise 'thokna' hai".

ADG Varanasi zone, PV Rama Sastry said that till now, 11 people have been arrested. According to the CMO, the reason of death of the constable is head injury. Post-mortem report is awaited. He said that the general secretary of the Nishad Party is the prime accused of the incident.

32 people have been named in the FIR while 60 unnamed people also mentioned in the FIR.

Constable Suresh Vats was killed and two others were injured as protesters of Rashtriya Nishad party hurled stones at the vehicles returning after PM Modi's public meeting in Ghazipur on Saturday.

Protesters hurled stones at the vehicles returning after Prime Minister Narendra Modi's public meeting in Ghazipur, Uttar Pradesh, leading to death of one police constable, and injuring two people on Saturday night. Vats was hit on the head by a stone when he went to end a traffic jam caused by the protestors.