Going to Pakistan is like going to hell: Defence Minister Manohar Parrikar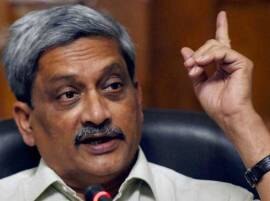 Rewari: Defense Minister Manohar Parrikar on Tuesday said going to Pakistan was like going to hell.

He made this statement in Rewari, where he was addressing party workers.

He said Pakistan was facing the ramifications of condoning terrorism.

He said BJP government has given freedom to soldiers to return fire. So when a round is fired from Pakistan's side, soldiers fire 10 rounds. He said soldiers should kill the enemy rather than attaining martyrdom.

Talking about PoK, he said the region was India's and India has again claimed it. He said if India became strong, Pakistan won't find the courage to fire even a single shot.