Govt announces 13 winners of Fast track Smart City competition, Lucknow tops list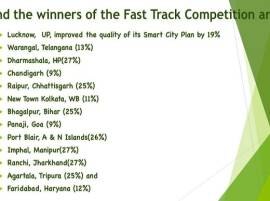 NEW DELHI:
Union Minister Venkaiah Naidu on Tuesday announced 13 winners of the Fast Track Smart Cities competition. 
The list comprises Lucknow, Warangal, Dharamshala, Chandigarh, Raipur, New Town Kolkata, Bhagalpur, Panaji, Port Blair, Imphal, Ranchi, Agartala and Faridabad.



Here are the 13 winners of Fast Track #SmartCity Competition, #TransformingIndia pic.twitter.com/OuxBziXhy9


— M Venkaiah Naidu (@MVenkaiahNaidu) May 24, 2016
Assured water and power supply, sanitation and solid waste management systems, efficient urban mobility and public transportation, IT connectivity, e-governance and citizen participation are some of the highlights of the smart city project.
While 20 smart cities were selected during 2015-16 as per the Mission guidelines, another 40 would be selected during 2016-17 and the remaining 40 during the next financial year.
ALSO READ
: 
BJP demands apology from Kejriwal for saying Goa's image is of sex, drugs and casinos
Under the Smart City Mission, 100 cities across the country will be developed as smart cities by 2019-20 with the Union government providing financial support to the extent of Rs 48,000 crore over five years.
The 23 cities which competed under Fast Track Competition include Warangal (Telangana); Lucknow (Uttar Pradesh); New Town Kolkata; Panaji (Goa); Pasighat (Arunachal Pradesh); Dharmashala (Himachal Pradesh); Faridabad (Haryana); and Raipur (Chattisgarh).
ALSO READ
:  
The bread you eat can cause cancer, says CSE study
Others include Bhagalpur (Bihar); Shillong (Meghalaya); Namchi (Sikkim); Port Blair (Andaman & Nicobar Islands); Diu (Daman & Diu); Oulgaret (Puducherry); Silvassa (Dadra & Nagar Haveli); Imphal (Manipur); Ranchi (Jharkhand); Agartala (Tripura); Kohima (Nagaland); Aizawl (Mizoram) Kavaratti (Lakshadweep), Dehradun (Uttarakhand) and Chandigarh.
Those cities which miss out in the Fast Track Competition would be able to participate in the next round of competition with other cities.
ALSO READ
: 
Congress hits back, names Sulabh toilet after Rishi Kapoor in Allahabad
Each city selected in different rounds of competition will be given central assistance of Rs 200 crore in the first year and Rs 100 crore each during the subsequent three financial years.
State governments and respective urban local bodies will provide matching funds to the same amount.
(With inputs from PTI)