Gujarat Assembly Election: BJP mocks Congress via cartoon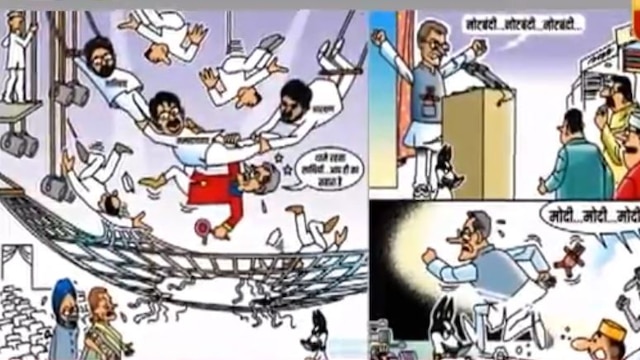 New Delhi:
With Gujarat elections just weeks away, the two national parties have started to indulge in a battle of trolls where a BJP IT cell head Amit Malviya tweeted two cartoons involving Congress party leaders. In the war of words, the two memes also depict prominent leaders though their name is not mentioned anywhere.
One of the cartoon depicts the scenario of a circus where Dalit leader Jignesh Mevani, Congress politician Alpesh Thakor and patidar leader Hardik Patel are shown doing tricks and the Congress leader, Rahul Gandhi, is holding on to them. Here Rahul is saying 'Hold on my friends, you are my resort'. In the left corner of the cartoon, Manmohan Singh and Sonia Gandhi can also be seen. The cartoon also shows the now famous Congress Vice President Rahul Gandhi's pet dog Pidi, where he who is holding a laptop. The caption is 'The State of Congress in Gujrat'.



State of Congress in Gujarat.. pic.twitter.com/3fgBKroeQ3


— Amit Malviya (@malviyamit) November 9, 2017
In the second cartoon, Rahul Gandhi is addressing a rally where textile businessmen are gathered, then the mob start shouting 'Modi' 'Modi' and Rahul runs away. In this cartoon too, you can see the presence of  Rahul Gandhi's pet dog Pidi. This cartoon is based on the event that happened in Surat on Wednesday. The caption is 'A day in the life of Rahul Gandhi in Gujarat'

A day in the life of Rahul Gandhi in Gujarat.. pic.twitter.com/BVcvGtnD3I

— Amit Malviya (@malviyamit) November 9, 2017