Gujarat Assembly Polls 2017: ABP News organises Shikhar Sammelan to know the pulse of the state
Gujarat Chief Minister Vijay Rupani will be first to speak on the ABP News' Gujarat Shikhar Sammelan conclave.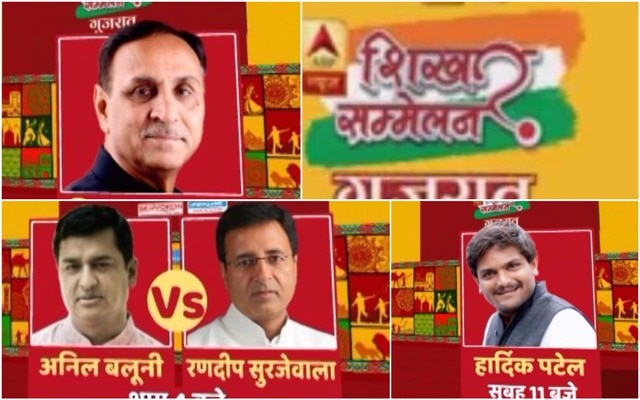 New Delhi: To know the pulse of the state, ABP News is organising Gujarat Shikhar Sammelan, on Tuesday, before the Gujarat Assembly Polls.
The Assembly election in Gujarat has gained even more importance as it is the home state of Prime Minister Narendra Modi who has paid multiple visits to the state and inaugurated a number of projects.
Congress' future president Rahul Gandhi is also not far behind and has been visiting Gujarat in order to turn the fortunes of his party who has been out of power in the state for last two decades.
First to speak on the conclave will be Gujarat Chief Minister Vijay Rupani.
He will be followed by Patidar leader Hardik Patel at 11 am.
OBC leader Alpesh Thakor will speak at 12 pm. He will be followed by Shankersinh Vaghela at 1 pm.
Anand Sharma of Congress will speak at 1:30 pm. Praful Patel will express his views at 3:30 pm.
BJP's Anil Baluni and Randeep Surjewala will be face to face at 4 pm followed by Sambit Patra and Priyanka Chaturvedi at 5 pm.
BJP president Amit Shah will be present at 6 pm.
Railway minister Piyush Goyal and law ministry Ravi Shankar Prasad will be present at 7 pm and 8 pm, respectively.
In Gujarat, the polling for the two-phase elections (having total 182 seats) will take place on December 9 and 14. Votes will be counted on December 18.
In the first phase, eighty-nine seats of Saurashtra and South Gujarat region are going to polls. The remaining 93 seats in central and northern region would go for polls in the second phase.