Gujarat Elections: PM Modi, Amit Shah attack Congress' Mani Shankar Aiyar for holding meeting with Pak envoy
Vigorous campaigning by both BJP and Congress is underway ahead of second phase of voting in Gujarat elections.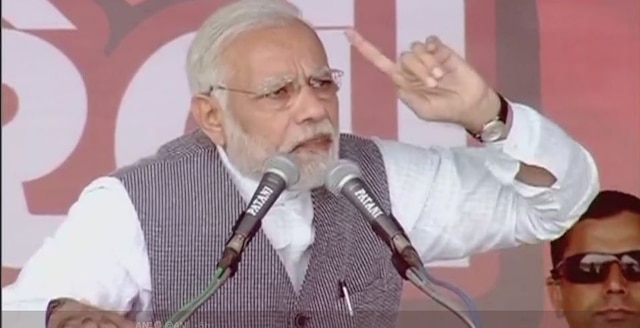 New Delhi
: Ahead of the second phase of voting for Gujarat Assembly polls, Prime Minister Narendra Modi and Congress Vice President Rahul Gandhi have intensified their campaigning in the state.
Prime Minister Modi today addressed a rally in Palanpur where he attacked Congress party for numerous reasons, communication with Pak envoys being the topmost of all.
He alleged that Pakistan was interfering in Gujarat Assembly polls, and sought an explanation from the Congress over its top partymen who are said to have recently met leaders from the neighbouring country.
He also raised questions over the alleged appeal by former director general of the Pakistan Army, Sardar Arshad Rafiq, that senior Congress leader Ahmed Patel be made chief minister of Gujarat.
He said (former Congress minister) Mani Shankar Aiyar had called him "neech" (vile) a day after the alleged meeting of Pakistani leaders with top Congressmen. "There were media reports yesterday about a meeting at Mani Shankar Aiyar's house. It was attended by Pakistan's high commissioner, Pakistan's former foreign minister, India's former vice president and former Prime Minister Manmohan Singh," Modi said.
He further said that the meeting continued for at least three hours at Aiyar's house.
"The next day, Mani Shankar Aiyar said Modi was 'neech'. This is a serious matter,"  PM Modi said.
He also added that Rafiq had backed Ahmed Patel as the next chief minister of Gujarat.
"(On one side) Pakistan Army's former DG is interfering in Gujarat's election, on the other side, Pakistan's people are holding a meeting at Mani Shankar Aiyar's house," he said. "And, after that meeting, people of Gujarat, backward communities, poor people and Modi were insulted. Don't you think such events raise doubts," Modi asked.



The same Mani Shankar Aiyar, who insulted Gujarat, held secret meetings with Pakistan High Commissioner. What was the reason? Why are people who previously held high posts in military-intelligence establishment of Pak writing that we should help make Ahmed Patel the CM?: PM Modi pic.twitter.com/lc9G57NlKI


— ANI (@ANI) December 10, 2017
Later in a press conference BJP party chief Amit Shah also shot a number of allegations at Congress party. Shah reiterated PM Modi's statement on Mani Shankar Aiyar.

Pakistan's Envoy, Former PM Manmohan Singh and Former VP Hamid Ansari had a meeting with Mani Shankar Aiyar. Right before Gujarat election, without informing MEA conducting a meeting with Pak envoy... I don't know what message does it convey: Amit Shah in Gandhinagar pic.twitter.com/DemZFvE7KY

— ANI (@ANI) December 10, 2017

He also lashed out at Congress for backing Jignesh Mewani who has alleged relations with PFI.



Jignesh Mewani's pictures of accepting money from PFI has gone viral. PFI has always indulged in anti-national activities. Rahul Gandhi meets such a person who has relations with an anti-national outfit & Congress gives up its seat for him for vote bank consolidation: Amit Shah pic.twitter.com/lopAY7QOj2


— ANI (@ANI) December 10, 2017

Congress knew of his relations with PFI otherwise they would have given him a Congress ticket. They knew of the relations so they made him contest as an independent candidate and supported him from outside: Amit Shah in Gandhinagar #GujaratElection pic.twitter.com/qJdMhJfXeL

— ANI (@ANI) December 10, 2017

BJP which seems a bit insecure after Rahul Gandhi started his temple tours , also attacked it for creating polarisation. Shah said that Congress had laid the foundation of Gujarat election on casteism. "The would-be President of Congress started hopping from temple to temple. Congress has been the creator of polarisation in India."
Meanwhile in Kheda district , while addressing a rally , Congress Vice President Rahul Gandhi sternly criticised  BJP over noteban.



The money of all thieves in India was turned white by Modi Ji.: Rahul Gandhi in Kheda's Dakor #GujaratElection pic.twitter.com/0rAUw7BOBX


— ANI (@ANI) December 10, 2017

Narendra Modi had said you will get Rs 15 Lakh in your bank accounts, you did not get even 15 paise: Rahul Gandhi at PM Ground in Aravali #GujaratElection pic.twitter.com/HEM9p560oV

— ANI (@ANI) December 10, 2017

Later in Kaalol , PM Modi again accused Congress of divide and rule politics.



BJP is fighting these elections on the issue of development. Congress is back to their old tricks. A generational shift has not brought in a new political culture for the party. They rely on their same divide and rule politics: PM Modi in Kaalol #GujaratElection2017 pic.twitter.com/rBTQb3AVHc


— ANI (@ANI) December 10, 2017
Backing his statement on Gujarat's development, PM Modi said "When I first stated my intent to ensure electrification of villages in Gujarat, the state Congress leaders mocked me. They said it can never happen, they also asked me- you have not headed a Panchayat how can you promise this? We proved them wrong, ensured villages get power. "
The second phase of polling in north and central Gujarat, including the Banaskantha district, will be held on December 14.
(With inputs from agencies)