'Congress Has A Problem With Indian Traditions': Amit Shah On Rafale Shastra Puja
"The BJP government is committed to evicting all of them from country through the NRC, he added.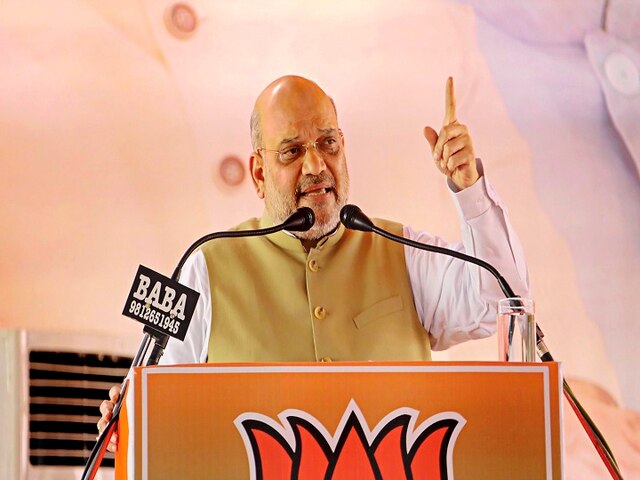 Kaithal (Haryana): Union Home Minister Amit Shah on Wednesday launched a broadside against the Congress over the party's criticism of the 'shastra puja' performed on the first Rafale aircraft acquired by the country in France yesterday. "Rajnath Singh ji performed shastra pooja in France but the Congress people felt very bad about this too," Shah said at a poll rally here.

"Should the shastra pujan tradition be observed or not? Should we keep this tradition alive or not? he said. But the Congress is opposing this too," he asked.

The home minister set a date for the ouster of every illegal immigrant in the country as he attacked the Congress party for opposing the implementation of NRC.

"When we come again to seek your votes in 2024, I want to say before then we would have evicted every single intruder from this country, the BJP president said here.

"The BJP government is committed to evicting all of them from country through the NRC," he added.

Further, Shah said former Atal Bihari Vajpayee had praised Indira Gandhi over the war against Pakistan to liberate Bangladesh. "It was because it was a matter of national interest and not a Congress victory".



Shah said the Congress has to oppose whatever the BJP does. "We expected to get the support of all parties in this because it was not the BJP's job, but related to the country's security."

The home minister said several soldiers from Haryana had sacrificed their lives over Jammu and Kashmir.

Defending PM Narendra Modi's foreign visits, Shah said Modi has undertaken fewer foreign visits than former Prime Minister Manmohan Singh but the perception is just the opposite. "This is because Singh's visits failed to make an impact, he claimed.