Here are 10 points about 69th Republic day parade
For the first time in history, 10 leaders of the Association of Southeast Asian Nations or ASEAN will be the chief guest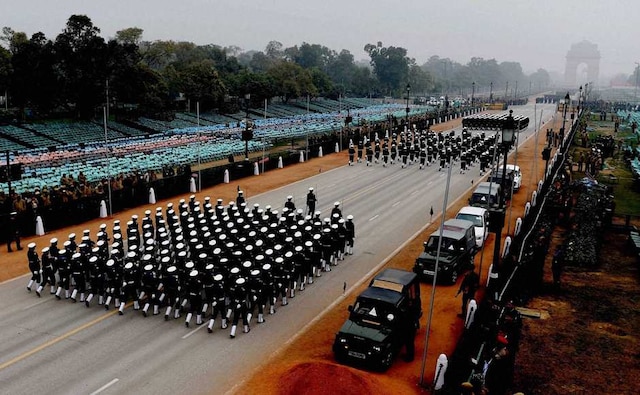 New Delhi:
On Friday, the country is celebrating it's 69th Republic day. For the first time in history, 10 leaders of the Association of Southeast Asian Nations or ASEAN will be the chief guest of today's vibrant parade, which will be held in Rajpath, New Delhi
Here are the ten points about today's parade:


The parade will start with the flags of 10 Asean countries. These flags will be in the hands of Indian soldiers


As per the protocol, among guests, the first to arrive will be the Prime Minister of Brunei and the last to reach will be the Thai king.


India's tradition and culture will be displayed at the parade. Two tableaux will also display India's historical, educational, religious and cultural linkages with the ASEAN nations.


Tableaux from 14 States and UT, Nine Central Ministries, Departments and Central Paramilitary Force will display historical, art and cultural heritage of the country. Altogether b23 tableaux will be the part of today's parade.


The Army's T-90 tank, Akash Weapon System, and Brahmos Missile System will be the main center of attraction.


'Seema Bhawani' a group of 113 women will perform stunts on motorcycles this will be the main attraction of today's parade.


C-130J Super Hercules, Su-30 MKIs, LCA, C-17 Globemaster, Tejas will be among the aircraft that will fly in different styles.


Army's Punjab regiment, Maratha life infantry, Dogra and Ladakh regiments will also take part in today's parade. Squads of Delhi police, BSF, Navy, ITB will also be the part of today's parade.


Models of Tejas Multirole Fighter Aircraft, Rudra Helicopter, Arudhra Radar and Akash missile system will be displayed in Air Force tableau, themed "Indian Air Force Encouraging Indigenisation"


Almost after a period of 20 years, Tableaux of para-military force will also take part in the parade this year. The tableaux of ITB, which is active on Indo-china border will be among the main attractions of the parade this year.