Here is why Virat Kohli is more valuable celebrity brand than Shah Rukh Khan
With a brand value of USD 144 million he registered a growth of 56 per cent from last year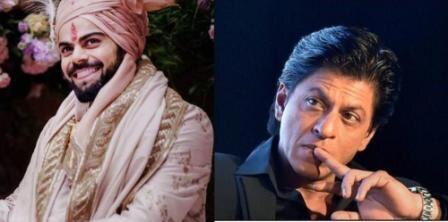 By:

PTI
Updated:
20 Dec 2017 08:02 PM
Mumbai
: Indian cricket captain Virat Kohli has dethroned Bollywood superstar Shah Rukh Khan to become the most valuable celebrity brand in the country, with a brand value of USD 144 million registering a growth of 56 per cent from last year, according to a report.
This increase is primarily driven by his growing endorsement fees, on-field performances and rise in popularity index, according to the Duff & Phelps report Rise of the Millennials: India's Most Valuable Celebrity Brands.
"For the first time since we began publishing our rankings, Shah Rukh Khan has slipped from the top ranking and been replaced by Virat Kohli. Kohli is now the first choice of brands to engage and attract consumers, fueled by his extraordinary on-field performances and off-field charisma," Duff & Phelps managing director and region leader - India, Japan and Southeast Asia Varun Gupta said.
Shah Rukh Khan slipped to the second rank, with a brand value of USD 106 million, down by nearly 20 percent as compared to 2016, while actress Deepika Padukone, valued at USD 93 million, retained her third rank.
ALSO READ - DELHI METRO CRASH: DMRC SUSPENDS OFFICIALS INCLUDING DEPOT IN-CHARGE
Kohli endorses 20 brands as of October 2017, while Khan and Padukone endorse 21 and 23 brands, respectively.
Total value of the top 15 celebrity brands is estimated to be USD 712 million, and sports celebrities contributed around 25 per cent of the total celebrity brand value in 2017.