HP state transport strike enters day-2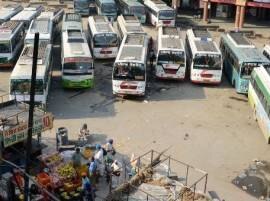 New Delhi: Strike by employees of the state-run Himachal Road Transport Corp (HRTC) enters its second day today. Defying the high court order, the strike across the state will continue till Wednesday night.

The employees demanded regularisation of the contract staff and pension benefits, among other things. The strike hit the commuters, especially tourists, hard with connectivity between cities and towns.

The employees said no corporation buses were plying in the state. However, some of the buses of Punjab, Haryana and Uttarakhand state roadways were functional but they were overcrowded.

"A meeting with the striking employee leaders was held on Tuesday and apprised them about the high court orders, especially the part that they must call back strike by 5 p.m. on June 14, but they refused to call off the strike," a statement by HRTC Managing Director Ashok Tewari said.

Joint coordination committee of HRTC employees' president Pawan Guleria said they were forced to resort to strike due to the adamant attitude of the state government over their long-pending demands. He said the government was given a notice in advance about the two-day strike.

Acting tough against the protesting employees, the high court, which had on Monday declared the strike as illegal and issued a directive for its immediate withdrawal while asking the state to look into their demands, on Tuesday said the decision to join the strike was a contempt of court.

The HRTC with over 2,500 buses has been making losses but has been important to the state as it connects far-flung villages with urban areas.