Telangana: CM KCR calls for mega public meeting of 25 lakh people; announcement of early election speculated
Rao reportedly plans to prepone the Telangana elections to hold it with the assembly elections of four states scheduled in the end of this year.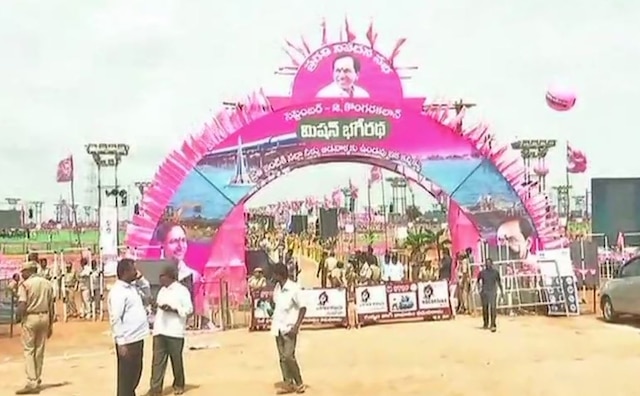 New Delhi:
The ruling party of Telangana, the Telangana Rashtra Samithi (TRS), has called for a huge public meeting today, which is being said to be the biggest ever in the state.
However, heavy rains lashed the place overnight and all the arrangements made for the giant rally, fizzled out with the water. The red carpets and chairs were thoroughly soaked in water.

It is being speculated that announcement of dissolution of assembly six months before the completion. may be made today, and fresh election dates may also be declared.

All eyes are set on the address by Chief Minister Kalvakuntla Chandrashekar Rao better known and abbreviated as K.C.R.

Tight security arrangements have been made for the rally. A footfall of around 25 lakh has been taken into consideration as people from all the districts of the state are expected to flock to the rally which is being held in 2000 acre land.

Before the public rally, a cabinet meet is scheduled at around 1 pm today. It is being

The term of CM K Chandrashekhar Rao is getting over in May 2019, leading to a possibility of assembly elections coinciding with Lok Sabha elections. As per information received, the CM is not in favour of holding elections at the time of parliamentary polls. Rao reportedly plans to hold Telangana elections with the assembly elections of four states scheduled in the end of this year.




#Visuals from Telangana Rashtra Samithi(TRS) rally venue in Ranga Reddy district, rally to be held later today and will addressed by CM Kalvakuntla Chandrashekar Rao. #Telangana pic.twitter.com/7FDYs297tX


— ANI (@ANI) September 2, 2018