I Was Under House Arrest, Home Minister Blatantly Lying In Parliament: Farooq Abdullah
Congress leader Rahul Gandhi also tweeted alleging that "Kashmir's mainstream political leaders have been jailed at secret locations."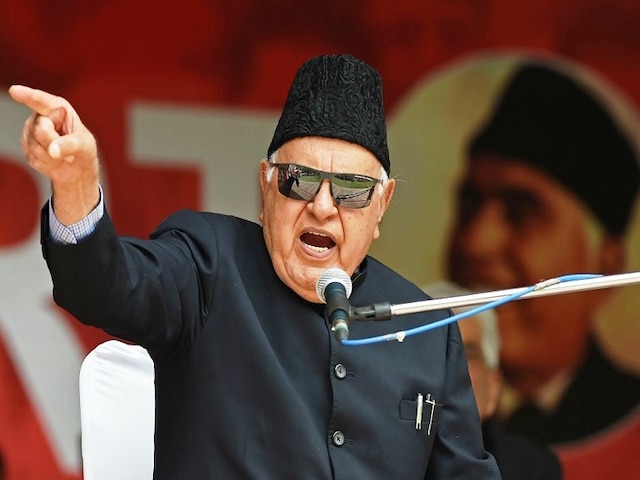 New Delhi: Former Jammu and Kashmir chief minister Farooq Abdullah on Tuesday accused Home Minister Amit Shah of lying "blatantly"over the issue of his alleged detention. Speaking to reporters at hotel in Srinagar, Abdullah said "I had to come out of the house as soon as I heard the Home Minister of India blatantly lying. There is a DSP placed outside my house, no one could come, no one could go out."
The 81-year-old NC leader said he quoted the home minister's lines to the security personnel who detained him. "Who are you to detain me when the home minister says I'm not under house arrest?"
An emotionally charged Abdullah said the decision to scrap Article 370 is totally undemocratic and government was using its dictatorial authority. "This is not the India we dreamt of. We will the take the matter to court."


Farooq Abdullah is neither under detention nor arrest and he is at his home of his own will, Home Minister Amit Shah informed Lok Sabha on Tuesday.

He made these remarks when Supriya Sule (NCP) said Abdullah used to sit next to him in the House. She said he is not in House and his voice is not being heard.




Kashmir's mainstream political leaders have been jailed at secret locations.


This is unconstitutional & undemocratic.

It's also short sighted and foolish because it will allow terrorists to fill the leadership vaccum created by GOI.

The imprisoned leaders must be released.

— Rahul Gandhi (@RahulGandhi) August 6, 2019



"He is neither under detention nor under arrest. He is at his home on his own will," Shah said.

When Sule wondered whether the National conference leader was unwell, Shah said it was up to the doctors to say. "I can't carry out the treatment, it was up to doctors," he said.

Congress leader Rahul Gandhi also tweeted alleging that "Kashmir's mainstream political leaders have been jailed at secret locations."

"This is unconstitutional & undemocratic.It's also short sighted and foolish because it will allow terrorists to fill the leadership vaccum created by GOI. The imprisoned leaders must be released," his tweet read.

The House is debating a motion to abrogate provisions of Article 370 in Jammu and Kashmir and a bill to split the state into two union territories.

(With additional information from Agencies)