As Indian Army celebrates 70th Army Day, nation pays tribute to its 'valiant heroes'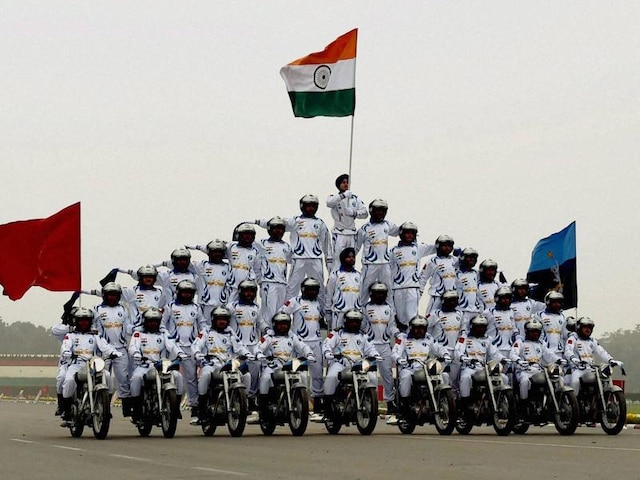 New Delhi: Today India celebrates the 70th Army Day.  The day is celebrated in recognition of  Field Marshal K M Cariappa's taking over as India's first commander in chief from General Francis Butcher, last British commander in chief.
Three Service Chiefs paying homage at Amar Jawan Jyoti on the occasion of 70th #ArmyDay 2018 #ArmyDay2018 @DefenceMinIndia @SpokespersonMoD pic.twitter.com/FbAUAAwFYU

— ADG PI - INDIAN ARMY (@adgpi) January 15, 2018

#WATCH Parade underway at Delhi's Cariappa Parade Ground as part of #ArmyDay celebrations, being reviewed by COAS Bipin Rawat pic.twitter.com/Jsc2F9oqsb

— ANI (@ANI) January 15, 2018

Many dignitaries including President Ram Nath Kovind and Prime Minister Narendra Modi greeted the officers and troops of the Indian Army on the occasion of Army Day.
On Army Day, greetings to the valiant men and women of the Indian Army, to veterans and to families of those who have worn the uniform. You are our nation's pride, the sentinels of our liberty. Citizens sleep securely knowing you are ever awake and ever vigilant #PresidentKovind

— President of India (@rashtrapatibhvn) January 15, 2018
Modi saluted the Army personnel who sacrificed their lives while serving the nation and said every citizen of the country has "unwavering trust and pride" in the Indian Army.

On Army Day, I convey greetings to the soldiers, veterans and their families. Every citizen of India has unwavering trust and pride in our Army, which protects the nation and is also at the forefront of humanitarian efforts during times of natural disasters and other accidents.

— Narendra Modi (@narendramodi) January 15, 2018

"Our Army always puts the nation first. I salute all those great individuals who sacrificed their lives while serving the nation. India will never forget our valiant heroes," the prime minister added.
We salute the valour, courage and sacrifice of our brave jawans on #ArmyDay. Your perseverance defends our freedom; your dedication shields our liberty. It's because of your sacrifices a billion hopes and dreams can take shape. pic.twitter.com/L9o0RFihsh

— Office of RG (@OfficeOfRG) January 15, 2018

Salute to band of brothers. Nation first, always and every time. #ArmyDay pic.twitter.com/PddNW9jbQb

— Rajyavardhan Rathore (@Ra_THORe) January 15, 2018

On Army Day, a grateful Nation salutes the courage and spirit of selfless service of our armed forces personnel. pic.twitter.com/bkGyLQNQo4

— Smriti Z Irani (@smritiirani) January 15, 2018

"Our Flag does not fly because the wind moves it, it flies with the last breath of each soldier who died protecting it" Salutations to the Indian Army on #ArmyDay.Their dedication and selfless service towards the country is an inspiration to the world. pic.twitter.com/zkkvtg4C6w

— Mohammad Kaif (@MohammadKaif) January 15, 2018




On Army Day I join the billions of countrymen to wish our brave heart Army personnel. With them nation feel proud and secure, their dedication and commitment towards the motherland is venerable. pic.twitter.com/BX84JRfH2F


— Amit Shah (@AmitShah) January 15, 2018

On the occasion of #ArmyDay 2018, I express my heartfelt gratitude to our soldiers for their selfless service to the nation. A Salute to the Olive Greens.

— Capt.Amarinder Singh (@capt_amarinder) January 15, 2018




Indian Army has time and again lived up to its tradition of valour, heroism, sacrifice and fortitude. On 70th Army Day, let us show our gratitude to the brave soldiers for their selfless service to the nation. pic.twitter.com/dIdAEA7bfW


— Piyush Goyal (@PiyushGoyal) January 15, 2018

Indian Army has time and again lived up to its tradition of valour, heroism,sacrifice & fortitude.On 70th #ArmyDay ,let us show our gratitude to the brave soldiers for their selfless service to the nation.
Jai Hind ! 🇮🇳#IndianArmy #ArmyDay pic.twitter.com/Rfwm0CzsUc

— Vijender Singh (@boxervijender) January 15, 2018




Saluting the true heroes of our Motherland on #Armyday . Tributes to their bravery, valour, commitment, Sacrifice and dedication for the nation. Jai Hind ! pic.twitter.com/yzc0pr8aXP


— VVS Laxman (@VVSLaxman281) January 15, 2018