Isreal PM Benjamin Netanyahu to visit Taj Mahal today
Prime Minister Narendra Modi on Monday invited Israeli companies to invest in India to help boost its development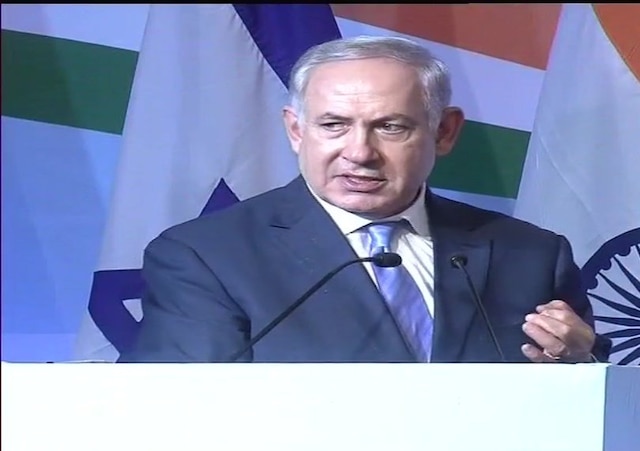 New Delhi: Isreal PM Benjamin Netanyahu, who is on a 6-day visit to India, is scheduled to visit Agra on Tuesday to visit the iconic Taj Mahal; along with his wife. Netanyahu will be accompanied by Chief Minister Yogi Adityanath during their entire trip to Agra.  

Prime Minister Narendra Modi on Monday invited Israeli companies to invest in India to help boost its development.

Addressing an India-Israel Business Summit in the national capital, PM Modi said that increasing bilateral trade with a hi-tech economy like Israel was not only diplomatic but also economic necessity for both the countries.

"India's developmental agenda is huge. It presents a vast economic opportunity for Israeli companies. I invite more and more Israeli people, businesses and companies to come and work in India," Modi said.

"Given the scale of the Indian economy and the relevance of cutting-edge Israeli technologies for us, even sky is not the limit for what we may achieve together," he said.

Noting some of the major reforms undertaken by the government in recent times like the Goods and Services Tax and liberalisation of foreign investment rules, the Indian Prime Minister promised all support to Israeli investors, saying India wants to do more for improved ease of doing business in the country.

"It is your combined efforts that will add real value to our interaction and produce concrete successes," he said.

We are on the cusp of new India-Israel relations. Given India's market and Israel's technology we will go far together," Modi added.

Before addressing the business forum, both the Prime Ministers held a meeting with the CEOs from companies in India and Israel, which was the second such meeting after the one in Tel Aviv last year during Modi's visit there.

Netanyahu's entourage includes the largest-ever delegation of Israeli business, consisting of 130 members representing over 100 companies.

In his address, Netanyahu noted how the world is now being reshaped by the "confluence of big data, connectivity and artificial intelligence" and suggested some important areas of Israel-India cooperation such as rail and cyberspace, automobiles and digital medicine, precision agriculture and water management.

"I believe in India because I know your heritage, your culture, your creativity, your humanity. I came here to say Prime Minister, Mr Modi, thank you for believing in Israel the way we believe in India," he said.

"There are brilliant people in India and also in Israel, and together we can shape the world," he added.

On the occasion, the two leaders gave a call for proposals for joint research and development (R&D) projects under the "India-Israel Industrial R&D and Technological Innovation Fund - I4F". India and Israel will make an annual contribution of $4 million each for five years.

The India-Israel Innovation Bridge was also launched earlier which will act as a link between the start-ups of both countries.

The Israeli Prime Minister arrived here on Sunday on a six-day visit to India to step up growing trade as well as military and strategic ties between the two countries.

At the India-Israel Business Innovation Forum here earlier on Monday, seven memoranda of understanding (MoU) were signed to increase economic cooperation between the two sides.

Among these were MoUs signed by the Confederation of Indian Industry (CII) separately with the Israel-Asia Chamber of Commerce and the Israel Export and International Cooperation Institute.

Besides, the DIPP-sponsored Invest India entity exchanged an MoU with Israel's Foreign Investments and Industrial Cooperation. Tata Projects also signed an MoU with Israeli company Water-Gen.

This is the first visit to India by an Israeli Prime Minister since Ariel Sharon came in 2003.