It is an act of cowardice, sacrifices of CRPF jawans will not go in vain: Home Minister Rajnath Singh on Sukma attack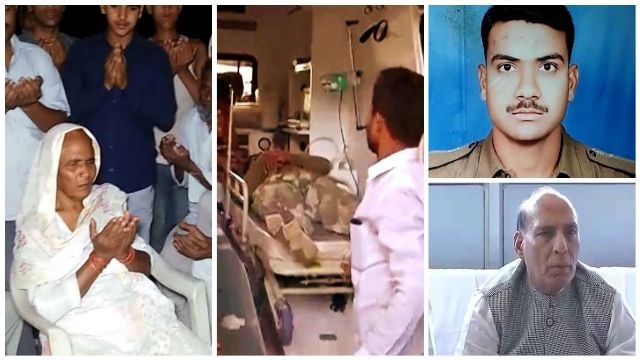 New Delhi: Union Home Minister Rajnath Singh on Tuesday termed the attack against CRPF personnel in Sukma as "a cold blooded murder" and an "act of cowardice" by Left Wing Extremist groups.

Addressing a press conference in Chhattisgarh capital Raipur, Singh also said the attack is an act of desperation. "We have accepted it as a challenge. We will review the strategy and if necessary we will revisit it."

"We are working to root out the problem of Left Wing Extremism.  LWE groups are anti development &they do not want development in the area," he added.



He paid tributes to martyred CRPF personnel and further said that their sacrifice will not go in vain.

Singh arrived in Raipur this morning at around 10.30 AM and directly headed to the headquarters of the 4th battalion of Chhattisgarh Armed Force in Mana camp area where the wreath- laying ceremony of the soldiers was held.

Chhattisgarh Governor Balramji Das Tandon, Chief Minister Raman Singh, Union Minister of State for Home Affairs Hansraj Ahir and senior state and paramilitary officials were also present to pay tributes to the martyred jawans.

Singh then held a meeting with the chief minister and other senior officials of the state.



Naxal leader Himda is said to be behind the massive Naxal attack in Sukma district which killed 25 CRPF jawans on Monday.

The cowardly attack drew widespread condemnation from various quarters. Commenting on it PM Narendra Modi said, "Attack on CRPF personnel in Chhattisgarh is cowardly and deplorable. We are monitoring the situation closely."

Chhattisgarh CM Raman Singh called emergency meeting on Monday night. Those injured in CRPF-Naxals encounter were shifted to hospital in Raipur and Bastar IG Vivekanand Sinha and DIG Sunderraj left for Sukma.

The CM took details of the incident and also took stock of the situation. The Chief Minister, who was on an official tour in Delhi on Monday, immediately cancelled his engagements after learning about the incident and landed in Raipur by the evening flight.