It is EVM wave not Modi wave: AAP's Gopal Rai on MCD results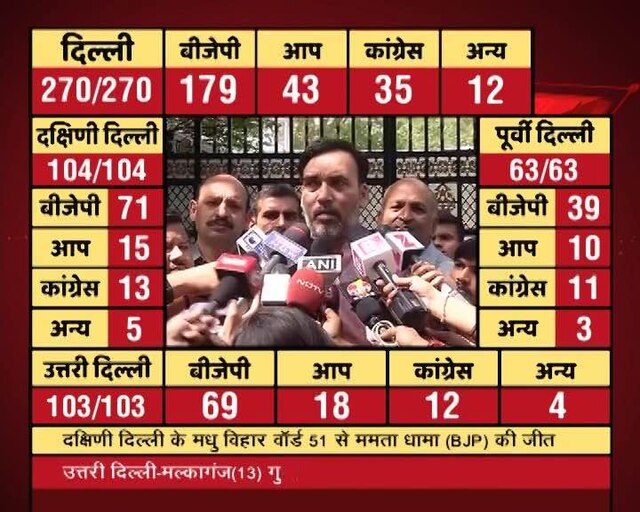 New Delhi: Senior AAP leaders, including Deputy Chief Minister Manish Sisodia, on Wednesday met Delhi Chief Minister Arvind Kejriwal's at his residence as early counting trends showed the ruling party trailing severely in MCD polls.
The trends have indicated the BJP clearly sweeping all the three corporations in the national capital.
Gopal Rai and Manish Sisodia in their meeting with the chief minister are analysing the losses suffered in the seats where they expected to have a strong hold.
The trends showed the Aam Aadmi Party at second spot, a few seats ahead of the Congress.
Speaking to reporters after the meeting, Rai said , "This is not a Modi wave, this is an EVM wave. This is the same wave that they (BJP) used in the Uttar Pradesh, Uttarakhand, and Punjab polls."
He said the party will analyse the loss.
AAP leader Ahsutosh also credited EVMs behind BJP's victory. He ruled out resignation of Kejriwal.



BJP's hasn't done 1 good thing in the last 10 yrs in MCD. EVM tampering behind BJP's win. Did Modi resign after Bihar loss?: Ashutosh, AAP pic.twitter.com/Eqz2dkelSO


— ABP News (@abpnewstv) April 26, 2017
The BJP was leading in 179 wards, the Congress in 35 and the AAP in 43 wards in the Delhi civic polls.
Again alleging tampering in EVMs, AAP's media advisor Nagendar Sharma tweeted: "Sweeping Delhi MCD polls without sweeping Delhi's streets for a decade. When machines are with you human will is of no relevance."
Delhi BJP chief Manoj Tiwari has demanded has credited PM Narendra Modi and party chief Amit Shah. He said Arvind Kejriwal should be prepared to offer resignation.