Jalandhar: Priest who testified against rape-accused Bishop Franco Mulakkal found dead
Controversial Roman Catholic bishop Franco Mulakkal, who has denied the rape charges as "baseless and concocted,", had received a rousing welcome from his supporters when he reached Jalandhar on October 17 after being released on conditional bail by a Kerala court. Rose petals were showered on him after he arrived in the city.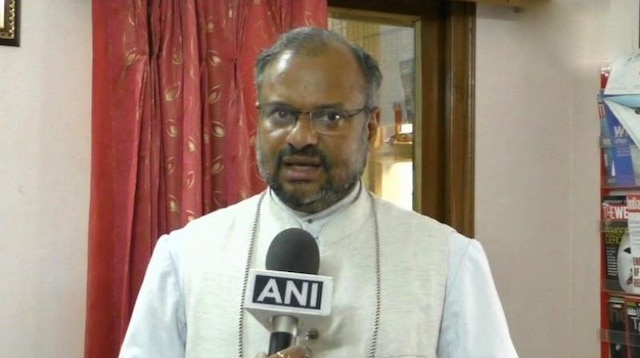 JALANDHAR:  In a shocking development, Father Kuriakose Kattuthara, a key witness in the case against Bishop Franco Mulakkal, was found dead in mysterious circumstances in Punjab's Jalandhar this morning.  The 62-year-old was suspiciously found dead in his room at St Paul's church in Dasuya. "He used to live at St. Paul's Church in Dasuya. He was found dead there. He was 62. The matter will be investigated. I have been informed that no injuries have been found," AR Sharma, DSP Dasuya, told news agency ANI. Sharma said blood pressure medicines were found near his body.  "It was found that he vomited over the bed. Blood pressure tablets were found at the spot. Investigation is underway. In our notice, no security was provided to him,"Sharma said.
Controversial Roman Catholic bishop Franco Mulakkal, who has denied the rape charges as "baseless and concocted,", had received a rousing welcome from his supporters when he reached Jalandhar on October 17 after being released on conditional bail by a Kerala court. Rose petals were showered on him after he arrived in the city.

ALSO READ: PMO disappointed by war between CBI No 1 and No 2

Mulakkal was arrested on September 21 after being accused of repeatedly raping and sexually abusing a nun between 2014 and 2016. The nun accused him of raping her first in May 2014 in a guest house. The nun said she had to approach the police as the church authorities did not take her repeated complaints seriously. As the demands for his arrest grew, the Vatican temporarily stripped Mulakkal of all pastoral responsibilities as the bishop of the Jalandhar Diocese of the Missionaries of Jesus. He was directed by the court to surrender his passport and not enter his home state Kerala except for appearing before the probe officer once in two weeks.

Pictures from the residence of Father Kuriakose Kattuthara