Jayalalithaa denied going to hospital: Sasikala to Commission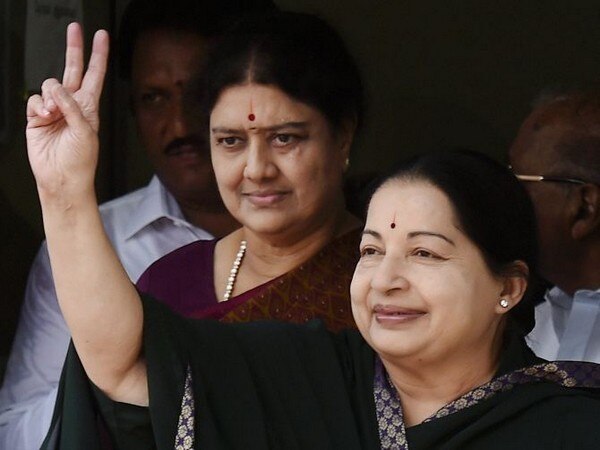 By:

ANI
Updated:
21 Mar 2018 11:05 PM
Chennai (Tamil Nadu) [India], Mar. 21 (ANI): Jailed All India Anna Dravida Munnetra Kazhagam (AIADMK) leader VK Sasikala on Wednesday recounted the September 22, 2016 incident before former chief minister of Tamil Nadu Jayalalithaa was rushed to the hospital.
Sasikala narrated the incident at Jayalalithaa's residence, stating that then chief minister of Tamil Nadu did not want to go to the hospital.
Sasikala, in an affidavit filed before Justice A. Arumughaswamy Commission, who is currently investigating the death of Jayalalithaa, said, "Jayalalithaa was unwell and called for help when she was in the bathroom on the first floor of her Poes Garden residence."
"She called to me for help. I suggested going to hospital, but she refused. She passed out and I called the doctor for an ambulance," Sasikala added.
Two ambulances from Apollo hospital were called and Jayalalithaa was carried from her bedroom in an unconscious state on a stretcher.
Sasikala also claimed that Jayalalithaa regained consciousness in the ambulance, where she was informed that they were en route to the hospital.
Dr KS Sivakumar, a relative of Sasikala, had examined Jayalalithaa twice on the same day and advised her to go to the hospital, but the latter refused.
Sasikala claimed that Jayalalithaa's health issues were mainly due to the stress caused by her conviction in the disproportionate assets case in September 2014.
Sasikala gave the Commission a list of 20 doctors, who had treated Jayalalithaa between November 2014 and September 2016- they work in different private hospitals in Chennai, Mumbai and Kolkata.
Further responding to allegations that no one was allowed to meet Jayalalithaa between September 22 and December 5, Sasikala said the former Tamil Nadu Governor Ch Vidyasagar Rao had met her on October 22, 2016.
Jayalalithaa was admitted to Apollo Hospital on the night of September 22, 2016 and passed away on December 5, 2016. Following her death, suspicion over the circumstances leading to her demise were raised by several persons, including Deputy Chief Minister O Panneerselvam and his followers.
Sasikala is serving a four-year prison term in the Rs 66.6-crore disproportionate assets case at the Parappana Agrahara jail in Bengaluru. (ANI)
This story has not been edited. It has been published as provided by ANI