Jayalalithaa died of multiple factors, had several medical problems: Treatment summary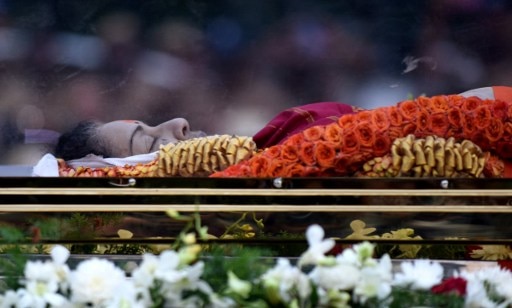 By:

PTI
Updated:
06 Mar 2017 10:38 PM
CHENNAI: Former Tamil Nadu Chief Minister J Jayalalithaa's treatment summary has listed ventricular fibrillation, infective endocarditis and acute respiratory distress syndrome as the cause of her death. The Apollo hospital's treatment summary, released by the state government on Monday, listed the three factors as the cause of her demise.

The report said her past medical history was significant for multiple medical problems including obesity, hypertension, poorly controlled hypothyroidism, irritable bowel syndrome with chronic diarrhoea and chronic seasonal bronchitis.

"She was also on a tapering dose of oral steroids for atopic dermatitis. There was a history of intermittent fever for 5-7 days with increased frequency of bowel movement."

Jayalalithaa was diagnosed with "enterococcus bacteraemia with septic shock and Acute Respiratory Distress Syndrome" after she was admitted, the report said.

She had infective "endocarditis of calcified mitral valve with valve perforation, Mitral Regurgitation and first degree AV block," it said.

Also, "Heart failure with preserved systolic function, uncontrolled Type-2 Diabetes mellitus, hypertension, Hypothyroidism, Asthmatic bronchitis and probable sleep apnoea, a history of irritable bowel syndrome and atopic dermatitis" were listed under the diagnosis column of the report.

Giving a list of 18 doctors which formed the critical care consultants group of Apollo, the report said externally, expert opinion was taken from 13 doctors, which included an AIIMS team.

Besides, the AIIMS team led by G C Khilnani, UK-based Richard Beale and 12 other doctors working with Mumbai-based hospitals, (Tata Memorial and P D Hinduja), US-based John Hopkins Hospital and another expert of an American hospital were those who had given opinions on treatment.

Beale at one point of time had said that considering her overall condition she carried a mortality (risk) of 40 per cent.

"During treatment, a pacemaker was set at a standby rate of 70/ minute. However, she was noted to have intrinsic sinus rhythm and did not trigger pacing," the hospital said in the report.

"Although her dyspnoea did not change significantly on the second day, her tachypnea and oxygen requirement improved and her sensorium returned to baseline. She interacted with family members and government officials."

On her last day, Apollo detailed the visit of an AIIMS team evaluating Jayalalithaa.

A neurological exam revealed brain stem dysfunction. "Patient never recovered a sustained intrinsic heart rhythm....and was dependent on VA ECMO," it said.

"A consensus emerged that continuing VA ECMO and other supportive measures were futile considering absence of intrinsic cardiac and mechanical activity," it added.

This was conveyed to top state officials, then senior minister O Panneerselvam, Lok Sabha Deputy Speaker M Thambidurai, her aide V K Sasikala and they consented to removal of ECMO.

After withdrawal of ECMO Jayalalithaa was declared dead at 11.30 PM on December 5, 2016, the report said.