Jayalalithaa: She was Power, even when power was not hers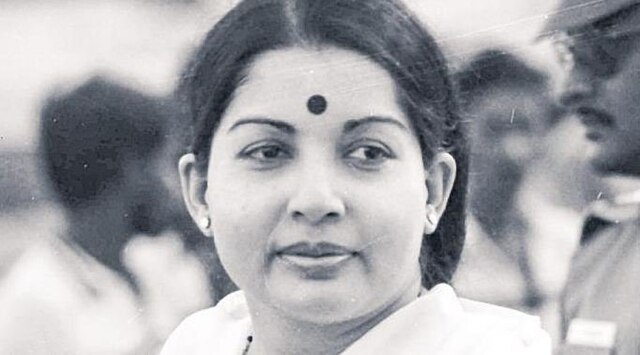 NEW DELHI: Formidable metallics have been deployed through history to bring down regimes - swords and spears, the stealthy dagger, armadas laden with gunpowder, tanks, fighter jets, lately remotely controlled drone devices, the might of entire armies and the best arsenal they could amass at their time. In 1945, it was an atomic payload christened Little Boy that ended the Axis bid to seize the world.

Jayalalithaa did it with a piece of porcelain daintily lifted. Over a tea soiree with Sonia Gandhi, arranged courtesy our best-known loose cannon, Subramanian Swamy, in April 1999, she poured the Atal Bihari Vajpayee government down the drain.

Not for nothing was she often called, with an admixture of fondness and fear, the iron butterfly. Jayalalithaa, who died on Monday aged 68 after three months in hospital, exuded a ruthless delicacy.

On the occasion she spoke, her tone was clipped and polite, but always, always, it came with an implacable undertug of curtness that left the limits defined around her - "Of course we shall take a decision, and when the time comes to inform you, you shall be informed. Thank you."

No more questions, Jayalalithaa would move on.

When this butterfly flapped her wings - these past years she had taken to wearing an almost metaphoric Zorro-like cape - and wanted her flap to hurt, it did. The favourite posture of party men in her presence was prostrate, they wouldn't want to fall in the way of her lethal wings.

She wouldn't have come the distance she did minus killer instinct - ask many among those who regularly and readily prostrated themselves before their Amma, aka Puratchi Thalaivi (Revolutionary Leader), aka Thanga Tharagai (Golden Maiden).

There's a reason they lay supine in reverence before her: she was Power, even when power was not hers.

She fought hard for it, and having secured her prize, never conceded it easy. When MGR, her hero in many a matinee hit and her political mentor, died in 1987, Jayalalithaa was temporarily cast aside - the interloper, the usurper of MGR's love now seeking to usurp his legacy.

Janaki Ramachandran, the AIADMK supremo's wife, was pushed afore to claim the dowager's dues; she became chief minister, but for a mere three weeks.

Janaki could never display the wares to become worthy successor, perhaps never had them.

Jayalalithaa did. She did six terms as chief minister during her roller-coaster career, years as rousing as they were ridden with trouble. She remained raved about by followers, reviled by opponents.

In 2014, she became the lone chief executive of a state to be unseated by law for possession of disproportionate assets, and thrown into jail. She installed an obsequious loyalist called O. Panneerselvam to keep the seat warm, fought her way, and returned.

There's something inexplicable, almost ineffable, about what gives leaders like Jayalalithaa - widely believed to be corrupt and in violation of ethics and morality, probably even disdainful of them - such run on the public pulse.

A parallel, probably, is Lalu Prasad of Bihar. A man lassoed by the CBI in the fodder scam, forced out of office on the threat he'd be arrested and eventually sent to prison.

Lalu, like Jayalalithaa, found a proxy in his wife, Rabri Devi, installed her chief minister with audacity, won another Assembly term in Bihar and is now, lo and behold, back in power.

Through these years - he was unseated in 1997 and later pronounced ineligible to contest or hold public office - Lalu has remained a popular leader in Bihar, lord of the largest vote bank any individual commands.

Lalu's complicity in the illicit fodder riches hasn't mattered to his following, nor the fabled derelictions of his years in power, nor even the fact that he was sent to prison and debarred from seeking a vote.

If anything, Lalu was able, credibly, to play underdog victim and shore up sympathy, even political support. In his case, as in Jayalalithaa's, popular sanction arched over legal and moral injunction.

Jayalalithaa amassed vast personal wealth and on occasion paraded it opulently; the 1995 wedding of her former foster son, Sudhakaran, was as dazzling a display of riches as it was distasteful. Jayalalithaa and her trusted bosom confidante Sasikala stood girdled head to toe in gold as lavish processions and festivities coursed through Chennai.

Some leaders are able, through sheer dint of persona, to transcend mortal rules and requirements - morality, ethics, the law - and cast themselves in the public imagination as above them.

Jayalalithaa was one among them; Lalu another. And before them, there was Indira Gandhi, who journeyed in the space of a momentous decade from Durga incarnate to evil Emergency empress to necessary queen quickly recalled as ruler by the people.

What's common to these personages isn't far to seek - self-belief, grit, tenacity, fortitude under fire, an ability to exude authority and inspire loyalty and establish a connect with the masses above and beyond their widely identifiable sins and frailties. Perhaps another is well-cultivated mystique.

It may also reveal to us something about ourselves as votaries: charisma matters, different hues of it at different times, but we love personalities approaching cult status, warts and all.

Indira and Lalu constructed their aura and authority being mostly gregarious - opening themselves to the people they set out to lead, playing one among them, instilling in them, with enough success, the belief that they were the best custodians of their interests.

The poorest in the land cried as if orphaned when Indira Gandhi was assassinated in 1984 - "Indiramma" had died. When Lalu barnstorms the Bihar boondocks, even today, there's always the palpable sense in the mill around him that people are amidst their hero. It's not for nothing he's held close to 20 per cent of the Bihar vote singularly, and throughout.

Jayalalithaa may have chosen a slightly different course - a mystique constructed equally on public intervention and personal retreat: she remained mostly moated behind her coterie, held together for the best part by Sasikala.

But the seldom seen Empress of Poes Garden was ever present to her people through the many Amma enterprises - Amma mineral water, Amma salt, Amma canteens, Amma cement, Amma pharmacies, Amma baby care kits, what not.

The Tamil Nadu landscape had become a gift of Amma largesse. She seldom appeared in public, but she saw to it the shadow of her benevolence seldom retreated from public view.

Over the last few months of illness and medical seclusion inside Chennai's Apollo Hospitals, her illness or wellness had become metaphoric of what much of Jayalalithaa's persona itself was - an enigma discourse, a parable of the mysterious ways in which populists prosper, and come to end.

It would be instructive, perhaps, to read passages from Ryszard Kapuscinski's retelling of the last days of Ethiopia's Rasta Emperor Haile Selassie ( The Emperor), or Gabriel Garcia Marquez's master tale of the last days of an archetypal Latin American despot (The Autumn of the Patriarch).

"Over the weekend the vultures got into the presidential palace by pecking through the screens on the balcony windows and the flapping of their wings stirred up the stagnant time inside, and at dawn on Monday, the city awoke out of its lethargy of centuries with the warm, soft breeze of a great man dead and rotting grandeur..." Marquez's book begins.

Around Apollo in Chennai, the vultures pecking were television cameras. And behind them, her furtive, nervous faithful.