JNUSU Elections 2018: United Left Alliance sweeps polls, bags all 4 key seats; ABVP a distant second
JNUSU Elections 2018: The counting of votes was halted after Akhil Bharatiya Vidyarthi Parishad (ABVP) leaders allegedly broke into counting centres and roughed up the Election Committee members.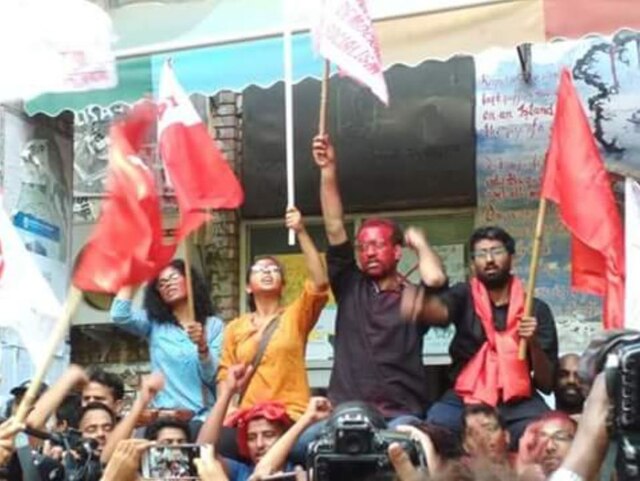 JNUSU Elections 2018:
The United Left Alliance has won the Jawaharlal Nehru University  Students' Union (JNUSU) elections. The party has bagged all central panel posts with N Sai Balaji elected as the President, Sarika Chaudhary as the Vice President, Aejaz Ahmed Rather as the General Secretary and Amutha Jayadeep as the Joint Secretary, reported ANI. The vote counting of the high-decibel JNUSU was halted after Akhil Bharatiya Vidyarthi Parishad (ABVP) leaders allegedly broke into counting centres and manhandled the Election Committee members. However, the ABVP members rejected the charges and said that the counting of votes were started without informing them. Reports of violence and protests kept sprawling the campus of JNU on Saturday and thousand of students, faculty members and political volunteers were present in the campus till late on Saturday night. Even a clash broke out on Saturday which reportedly ended up with injuring 10 people. Even a police case was filed in the Vasant Kunj police station.



#JNUSUFinalResult Left winning all seats of JNUSU.


President: N Sai Balaji
Vice President: Sarika Chaudhry
Gen Secy: Aejaz Ahmad Rather
Joint Secy: Amutha Jaydeep
#LeftUnityLongLive #JNUSU_Election2018 pic.twitter.com/PjI2zorPv6

— JNU Voice (@jnu_voice) September 16, 2018
Watch video-
A statement released by the JNU Election Committee had stated that it suspended the counting temporarily but did not name the party which attacked the counting centre. The committee firmly denied allegations that it did not make the necessary announcements before starting the counting. "The counting process, which began at 10 pm on September 14, has been suspended due to the forced entry into the counting venue, and attempts to snatch sealed ballot boxes and papers,"the statement from the JNU Election Committee read.
Former union vice president Shehla Rashid took to Twitter and expressed outrage over the incident of violence. "Shocked! Never seen something like this in JNU. ABVP goons broke glass doors and forcibly tried to enter the #JNUSU_Election2018 counting venue last night. They attacked the members of Election Committee and tried to snatch ballot boxes. Counting suspended," she tweeted. The voter turnout in the election was highest in six year at 67.8 per cent as over 5,000 students cast their votes.