Just like in Bollywood movies, a villain enters Trudeau's scenic India visit
Blushes in the morning, dance at night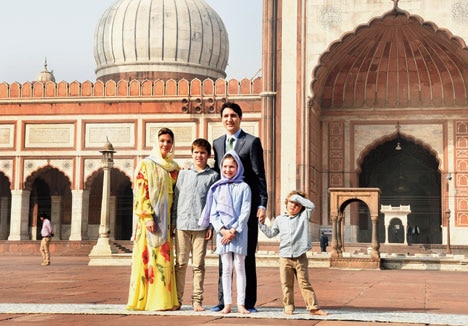 New Delhi: The Justin Trudeau visit was unfolding like a scene from a Karan Johar film - complete with the picture-perfect family kitted out in colour-coordinated sequined dresses.

Those who complained of too much syrup and missed the good old Bollywood got their kick on Thursday: a "villain" crashed what Trudeau critics back home have billed as a paid holiday.

Controversy erupted after Canadian media spotted Jaspal Atwal, an Indian-origin businessman convicted of an attempted assassination of a visiting Punjab minister in Vancouver in 1986, alongside Prime Minister Trudeau's wife, Sophie Grégoire, at an event in Mumbai.

As it is, the visit was being clouded by Trudeau's "liberal'' approach to Khalistan supporters based in his country.

What made matters worse for the Canadians was that Atwal had also been invited to a reception hosted on Thursday evening by high commissioner Nadir Patel at Canada House in the national capital. Red-faced, the mission quickly announced this morning that the invitation had been "rescinded".

Although Trudeau himself dodged questions in the morning, the Prime Minister, according to a CBC news report, said at a business meeting in the capital that "obviously, we take this situation extremely seriously. The individual in question never should have received an invitation and as soon as we found out, we rescinded the invitation immediately. The member of Parliament who included this individual has and will assume full responsibility for his actions".

The news about Atwal's presence came ahead of Trudeau's official meetings with the Indian leadership on Friday and a day after his public assurance to Punjab chief minister Amarinder Singh that Canada does not support separatist movements in India.

On Thursday evening, Prime Minister Narendra Modi appeared to step in to reassure his guest with two tweets welcoming Trudeau. "I look forward to meeting PM @JustinTrudeau tomorrow and holding talks on further strengthening India-Canada relations in all spheres. I appreciate his deep commitment to ties between our two countries," Modi said.

In the second tweet, Modi added: "I hope PM @JustinTrudeau and his family had a very enjoyable stay so far. I particularly look forward to meeting his children Xavier, Ella-Grace, and Hadrien. Here is a picture from my 2015 Canada visit, when I'd met PM Trudeau and Ella-Grace."

In true Bollywood fashion, the day ended happily for the Trudeaus as the Canadian Premier danced away the hiccups at the high commissioner's reception.

While the Canadians took the blame for the presence of Atwal in the country, the Indian government said enquiries were on to figure out how a man convicted of attacking an Indian minister got a visa. Foreign ministry sources said the chances were that he entered on an e-visa and cleared immigration because, according to the home ministry, Atwal was not on any black list.

"Even if he was on a black list at some point of time, there have been instances when names have been removed in the past on the recommendation of the Punjab government. Also, from all indications, he was convicted and served his sentence in Canada, so technically he is not a fugitive as such," officials said.

Fielding a volley of questions at the regular briefing, foreign ministry spokesman Raveesh Kumar said: "We do not know on what visa he entered India. He could be an Indian citizen, or be holding an Overseas Citizen of India card, or it could have been an e-visa or visa on arrival. We are cross-checking with our mission in Canada."

On whether the issue had been raised by India with the Canadians - considering that the foreign ministers of the two countries met on Thursday - Kumar said: "It is an oversight and the withdrawal of the invite is an indication that our concerns have been addressed."

Asked if any cases were pending in India against Atwal, Kumar said all these issues would need to be examined but refused to be drawn into whether New Delhi would hold him back in the country.