Kamlesh Tiwari Murder: 3 Detained In Hindu Group Leader's Killing, Says UP Top Cop
The accused detained in Gujarat have been identified as Maulana Mohsin Shiekh (24) Khursheed Ahmad Pathan (23) and Faizan (21).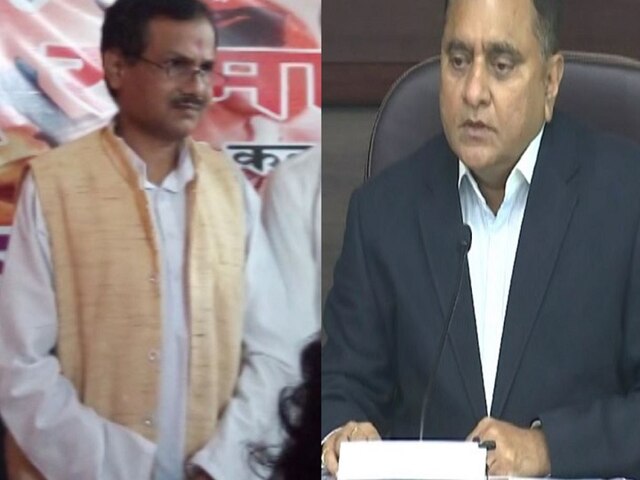 New Delhi: Three persons who were allegedly involved in the murder of the 52-year-old Kamlesh Tiwari have been detained, Uttar Pradesh's director general of police OP Singh said on Saturday. The accused detained in Gujarat have been identified as Maulana Mohsin Shiekh (24) Khursheed Ahmad Pathan (23) and Faizan (21).

While addressing the media regarding the murder of the Hindu outfit leader, UP's top cop said, "A joint team of UP and Gujarat Police has detained three persons and interrogating them. Their names are Maulana Mohsin Sheikh, Faizan, and Khurshid Ahmed Pathan." Two other accused were also detained but released later, they are being monitored, he added.

"In the initial interrogation no criminal background of the three people, who have been detained, has been established yet. If needed, we will take them into remand, bring them to UP and question them," Singh told the media.

The UP DGP further said, "In the FIR, two people were named as conspirators - Maulana Anwarul Haq and Mufti Naeem Qazmi. These 2 have also been detained and they're being questioned. We'll monitor Gujarat, Bijnor, Lucknow & other places which will come up during investigation."

He also said the police will is working in collaboration with the Gujarat Anti-Terrorism Squad (ATS) and till now no link with any terrorist organisation has been established. "We will look into all the details and take action," Singh said.

"Prima Facie this was a radical killing, these people were radicalized by the speech that he (Kamlesh Tiwari) gave in 2015, but much more can come out when we catch hold of the remaining criminals," the top cop told media.

Speaking on the security arrangements given to Kamlesh Tiwari, Singh said, "All the security arrangements were made, he (Kamlesh Tiwari) was given a gunner and a policeman, both were there with him. There was no laxity on the part of the police administration."

Watch | Prima Facie this was a radical killing: UP DGP, OP Singh on Kamlesh Tiwari murder



Meanwhile, SSP Moradabad, Amit Pathak spoke on the case. He said, "We had received the input of suspects boarding a train. In coordination with SP Rampur and STF teams, Gorakhpur - Dehradun express was checked. We found a few people whose IDs needed to be verified, that work is almost complete."

"No one has been detained. 4-5 people are being questioned. A comment can be made only after the verification," Pathak added.

The president of a little-known Hindu Samaj Party was murdered at his home in Khurshed Bagh under the Naka Hindola police station area in Lucknow, police said on Friday.

Police have registered an FIR against three persons in connection with the killing of 45-year-old Kamlesh Tiwari, who was earlier associated with a faction of the Hindu Mahasabha.

A lesser-known outfit called the Al-Hind Brigade claimed responsibility late on Friday night for the murder of the Hindu Samaj Party president, though the authenticity of the claim could not immediately be verified.

Late on Friday night, Additional Chief Secretary (Home) Awanish Awasthi said a special investigation team (SIT) had been constituted to probe the incident.

Earlier, police recovered security footage from outside the home of Kamlesh Tiwari. The footage showed three suspects - two men and a woman - carrying a yellow bag containing a box of sweets that police now believe hid weapons and was used to gain entry into Tiwari's home by pretending it was a Diwali gift. One of the men was wearing a saffron kurta and the other a red one, while the woman was wearing a red kurta and white dupatta.

In the footage, the box of sweets appeared to be from a confectionary in Surat in Gujarat. Further investigations into this angle are ongoing.

Watch | Five nabbed from Moradabad resemble those spotted in CCTV



An eyewitness, Saurashtra Singh, told reporters that the police constable deployed at Tiwari's house was sleeping while the gunner attached to him was not coming for the past a couple of days.

Earlier in the day, Tiwari's wife Kiran in a complaint to police said, "Around 12.30 pm, my husband was sitting in his office located on the first floor of the house and speaking to some unknown persons. I was in another room. Suddenly, for nearly 4-5 minutes, there was no conversation. I came out to enquire and saw my husband lying in a pool of blood. The two persons, who had come to meet him, were running out of the office."

She further alleged, "In 2016, Mohammed Mufti Naeem Kazmi and Imam Maulana Anuwarul Haq had announced a cash reward of Rs 1.5 crore on my husband's head. They have killed my husband by hatching a conspiracy."

The FIR against the Muslim clerics from west UP was filed by Tiwari's wife, who, on Friday night, demanded Chief Minister Yogi Adityanath meet the family and threatened self-immolation if her husband's killers were not brought to account.

Watch | Kamlesh Tiwari Murder Case: Wife says,"I will self-immolate"



Distraught family members also demanded government jobs for Tiwari's sons.